Gorgeous New Roof in Bothell
This is a gorgeous new CertainTeed roof on a lovely home in Bothell, Washington. The original roof, a cedar shake roof, was a good roof until it leaked, and most wood roofs eventually do leak. The Three Tree Roofing crew tore off all the old cedar shake and recycled it. We installed all new plywood after removing the cedar shakes. Cedar shake roofs have no plywood underneath them because you do not need plywood when installing cedar shakes. Then, we added the underlayment, the ice and water shield, and the perimeter edge metals and prepared the roof for the shingles.
We used CertainTeed Landmark TL in Moire Black. Moire black is a mix of dark black, lighter black, and dark gray. The new roof color increases the shingle definition and makes them look much thicker. Because it's a very neutral color, Moire Black is also the perfect roof color if you decide to paint your house after the roof installation.
Our clients rely on us to provide the highest quality residential and commercial roofing solutions for their roofing projects. If you have any questions about this project or other projects, feel free to contact us for your new roof or give us a call at 206-312-7663 (ROOF)!
Bothell Roofers share knowledge about roofing, roofing projects, and fun in Bothell, Washington.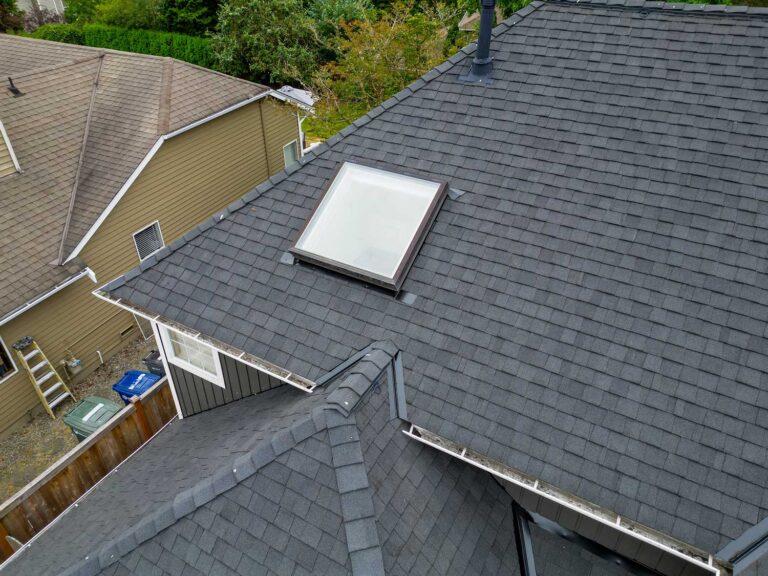 Trusted Performance and Quality Materials
As a Certified CertainTeed Roof Installer, Three Tree Roofing is proud to have the opportunity to offer the CertainTeed Integrity Roof System. With a 100 + year legacy of trusted performance, CertainTeed offers over 300 Roofing options backed by manufacturing excellence and quality materials.
Roofing Project Details: Main Roof, CertainTeed Composite Asphalt Shingles
Roofer: Three Tree Roofing CertainTeed Roofer Expert Team
Roofing Project Location: Bothell, Washington
Type of Roof: Composite Asphalt Roof
Type of Material: CertainTeed Composite Asphalt Shingles
Type of Roofing Project: Residential Composite Asphalt Replacement
Roof Color: Moiré Black
Type of Roof Replacement: CertainTeed Landmark TL Composite Asphalt Shingles Installation
Length of Roofing Project: 4 Days
Roofing Project Extras
New ½" CDX plywood installed
Roof Warranty
Fire, Wind, Tear and Wind Driven Rain Resistance
50-year material and 25-year workmanship manufacturer-backed warranty
15-year StreakFighter®algae-resistance warranty
Family Owned & Operated Seattle Roofing Company
Our dedication to customer satisfaction and providing top quality roofing services has given us the opportunity to build long-lasting relationships with our clients. As knowledgeable and trusted roofing contractors in the Seattle area, our clients rely on us to provide the highest quality roofing solutions for their roofing projects. Contact Us for your new roof or call us at 206-312-7663 (ROOF)!
Certified Roofer
Get A Free Estimate
We are ready for your business! Please contact us using the methods below to get your no-obligation estimate.
Or call us at
206-312-7663

(ROOF)