Energy Efficient and Eco-Friendly Flat TPO Roof in Tukwila, Washington
All right. We are at Puget Sound Elementary, part of the Impact Public Schools system. We're glad to be a part of this neat roofing project. It's always fun working on schools. The school requires compliance with various class ratings for tear resistance, wind, and fire. So, it's important that a commercial roofing specialist, like Three Tree Roofing, a roofing specialist with expertise in all phases of commercial roofing systems and installation, knows what needs to be up on the roof. We custom-built a taper system and some rolls and ripples on the roof. And those are going to help to divert water to the drains and prevent ponding water on the flat roof.
The custom-fabricated metal roof coping for this project is heavy gauge steel coping custom bent to this specific roof, ensuring a perfect fit when installed, and meeting the manufacturer's specifications. When completed, the roofing system comes with a 20-year material and labor warranty which is awesome and provides great protection. The warranty is transferable, not on this public school building, but on any other commercial building where a seller can transfer the warranty to the next buyer. We have completed work on this project. The roof turned out great. It is a Weatherbond flat membrane roofing system in gray .60mil TPO.
The WeatherBond TPO (thermo-polyolefin) roof is a durable, energy-efficient, and environmentally-friendly roofing solution, making it an excellent choice for this project. If you have any questions about residential or commercial roofing, feel free to contact us for your new roof or give us a call at 206-312-7663 (ROOF)!
Tukwila Roofers share knowledge about roofing, roofing projects, and fun in Tukwila, Washington.
Trusted Performance and Quality Weatherbond TPO Membrane Roof
As a Certified Weatherbond Roof Installer, Three Tree Roofing is proud to have the opportunity to offer the Weatherbond Membrane Roof System. With a legacy of trusted performance, Weatherbond offers roofing options backed by manufacturing excellence and quality materials. TPO is a 100% waterproof chemically resistant thermo-polyolefin membrane that has become the leading choice for low-pitched and flat roofs in Washington State. TPO roofs are both long-lasting and energy-efficient. A benefit of a TPO membrane roof is it's a maintenance-free roofing system.
Roofing Project Details
Roofer: Three Tree Roofing Weatherbond TPO Roofer Expert Team
Roofing Project Location: Tukwila, Washington
Type of Roof: Weatherbond flat TPO Roof
Type of Material: Weatherbond .60mil TPO
Type of Roofing Project: Commercial Flat Replacement
Roof Color: Gray
Type of Roof Replacement: Weatherbond flat TPO Membrane Installation
Length of Roofing Project: 3.5 Weeks
Project Highlights
Flat Roof TPO waterproof membrane
Custom built taper system
Custom-fabricated heavy gauge steel roof coping
Extras
Roof Warranty
Weatherbond 20-year material warranty
Weatherbond 20-year manufacturer backed workmanship warranty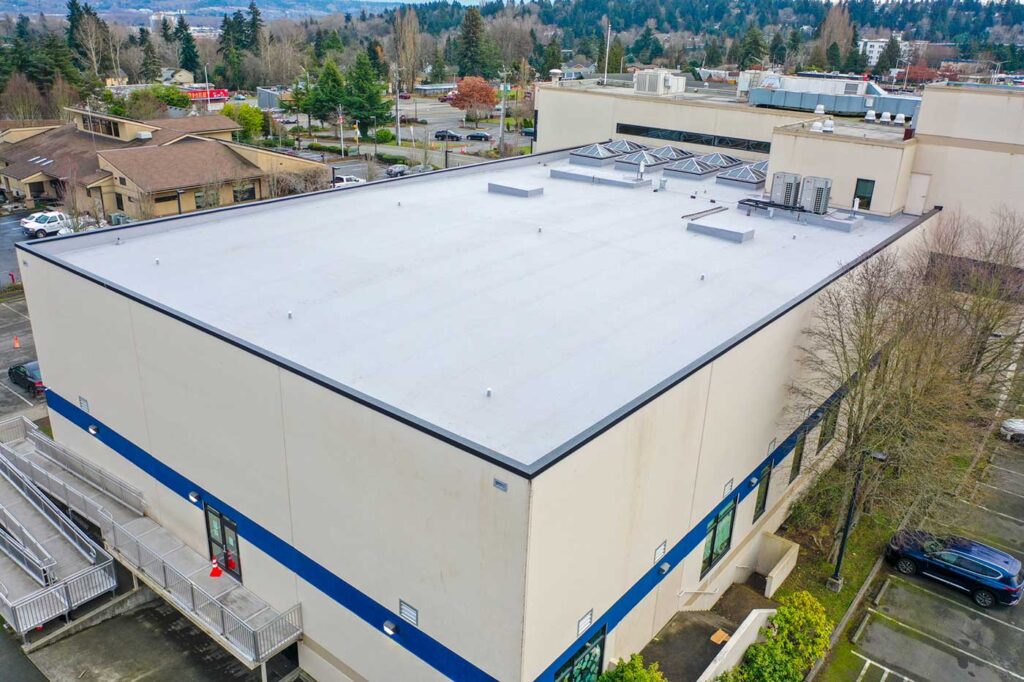 Family Owned & Operated Seattle Roofing Company
Three Tree Roofing is a family-owned and operated roofing company serving the greater Puget Sound Area. We are dedicated professional roofers who specialize in residential, multifamily, and commercial roofing. For over 15 years, we have been successfully solving both complex and straightforward roofing problems. Our dedication to customer satisfaction and providing top quality roofing services has given us the opportunity to build long-lasting relationships with our clients. As knowledgeable and trusted roofing contractors in the Seattle area, our clients rely on us to provide the highest quality roofing solutions for their roofing projects. Please contact us for your no-obligation estimate or call Three Tree Roofing at 206-312-7663 (ROOF)!
Certified Roofer
Get A Free Estimate
We are ready for your business! Please contact us using the methods below to get your no-obligation estimate.
Or call us at
206-312-7663

(ROOF)