Gorgeous Issaquah Metal Roof
This beautiful house is located in Issaquah, Washington. As soon as the customer contacted us, we went out, looked at the roof and gave them an estimate. The house had a concrete tile roof which was pretty cool, but the roof was leaking. The roof needed some help. The customer said they'd love to use Three Tree Roofing for their roof replacement. We sent our roofing crew out that same day to make some repairs to the roof to hold us over until we could install the roof replacement. With metal roofing, it takes about 3 to 4 weeks and sometimes a little longer to orchestrate the production and installation of the roof.
The panels we chose to install are customized to the house. Each panel is cut specifically to fit the house so there is a clean roof installation. We installed the Nu-Ray NRM-1000, an architectural metal roofing system from Nu-Ray Metal Products. In this project, we used the classic 16 inch pencil rib panels to add architectural definition to the roof design. The color is matte black. This gives some options if you decide to sell your home. It allows a new homeowner to paint the roof any color they choose. If the new homeowner would like to paint the roof yellow, it will still look great. We also installed some new skylights and nice big gutters, all matched to the roof color, creating a visual extension of the roof line.
If you have any questions about a commercial or residential project, Contact Us for your new roof or feel free to give us a call at 206-312-7663 (ROOF)!
Issaquah Roofers share knowledge about roofing, roofing projects, and fun in Issaquah, Washington.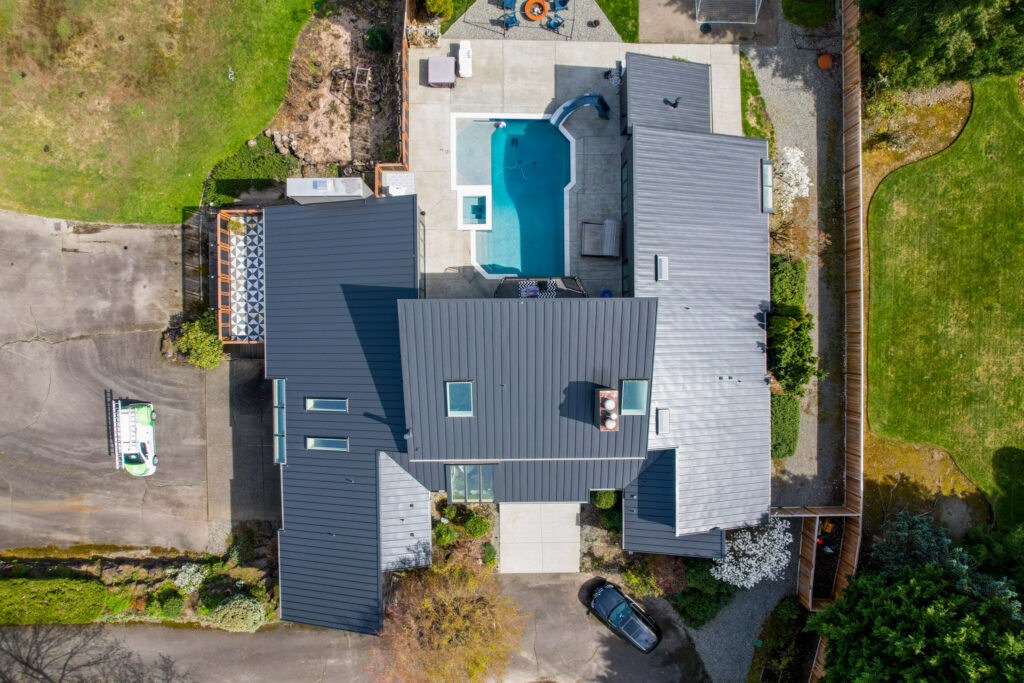 Aerial views of the newly installed Metal Roof
New skylights were installed and large gutters built to accommodate the new metal roof. Metal roofs have a higher profile because of the standing seam height. The new gutters look great with the new Nu-Ray NRM-1000 Matte Black metal roof.
Low Maintenance and High Performance, Nu-Ray Metals NRM-1000
Three Tree Roofing offers the best of Nu-Ray roofing products to our customers. Nu-Ray products have special features such as cool metal roofing with heat deflective options and an innovative snap-lock system. As the leader in metal roofing and siding, Nu-Ray's extensive color palette offers choices that will complement any architectural style and building materials.
Roofing Project Details
Roofer: Three Tree Roofing Metal Roofer Expert Team
Roofing Project Location: Issaquah, Washington
Type of Roof: Nu-Ray Metals NRM-1000 Steel Roofing and Siding Products Roof
Type of Roofing Project: Residential Metal Roofing
Roof Color: Matte Black
Type of Roof Replacement: Old Concrete Tile Roof Tear Off replaced with Nu-Ray NRM-1000 with classic 16" pencil rib panels
Length of Roofing Project: 3 to 4 weeks
Roofing Project Extras
New energy efficient skylights
Damaged tile roof leaks repaired
New larger curbs built for metal roof
New gutters
Roof Warranty
Fire, Wind, Tear and Wind Driven Rain Resistance
50-year material and 25-year Labor Warranty

Family Owned & Operated Seattle Roofing Company
Our dedication to customer satisfaction and providing top quality roofing services has given us the opportunity to build long lasting relationships with our clients. As knowledgeable and trusted roofing contractors in the Seattle area, our clients rely on us to provide the highest quality roofing solutions for their roofing projects. Contact Us for your new roof or call us at 206-312-7663 (ROOF)!
We carry these great roofing products
Get A Free Estimate
We are ready for your business! Please contact us using the methods below to get your no-obligation estimate.
Or call us at
206-312-7663

(ROOF)