Outstanding CertainTeed Landmark Pro Roof in Bellevue, Washington
Alright, let's take a trip east to Bellevue, Washington to this fantastic roofing project. The team is impressed with how excellent this roof turned out. Landmark Pro shingles in Weathered Wood are a spectacular choice, offering a neutral tone that works well with many different house paint colors. Want to change your house color down the line? This roof will still look fabulous with almost any house color you choose.
For this project, Three Tree Roofing replaced three worn-out skylights at the time of the roof installation. This approach ensures that the roofing system and the skylights stay as worry-free as possible because a roof's lifespan is typically longer than that of skylights. Moreover, the roofing team had to tackle a common issue known as a Dead Valley—a part of the roof where two roof slopes come together collecting water and debris in a valley, and those areas always leak. By removing all roofing material in this area and installing TPO (Thermoplastic Olefin), designed to repel water, we transform this Dead Valley into a place where the water comes off the roof nice and easy, keeping your home safe and dry.
CertainTeed Landmark Pro is a two-layer laminated fiberglass-based construction. The heavyweight design is highly durable, providing excellent protection against weathering and thermal shock. These shingles, made with our advanced roofing granules, reflect solar energy and radiate heat better than traditional roofing shingles, reducing your home's cooling costs while providing superior protection against the elements.
Our expert CertainTeed roofing team is certified through CertainTeed's certification process, ensuring your roof receives a 50-year material and a 25-year workmanship warranty. Even if we retire and decide to move to Hawaii, you're roof is still warranty covered.
If you have any questions about residential or commercial projects, feel free to contact us for your new roof or give us a call at 206-312-7663 (ROOF)! Thanks.
Bellevue Roofers share knowledge about roofing, roofing projects, and fun in Bellevue, Washington.
Trusted Performance and Quality Materials
As a Certified CertainTeed Roof Installer, Three Tree Roofing is proud to have the opportunity to offer the CertainTeed Integrity Roof System. With a 100 + year legacy of trusted performance, CertainTeed offers over 300 Roofing options backed by manufacturing excellence and quality materials. CertainTeed Composite Roof Shingles are Fire, Wind, Tear and Wind Driven Rain Resistance and are covered by an industry-best warranty including a lifetime limited transferable warranty against manufacturing defects on residential applications and more.
Roofing Project Details
Roofer: Three Tree Roofing Composite Roofer Expert Team
Roofing Project Location: Bellevue, Washington
Type of Roof: CertainTeed Dual-layer, high performance composite shingle Roof
Type of Material: CertainTeed Landmark Pro
Type of Roofing Project: Residential Composite Roofing
Roof Color: Weathered Wood
Type of Roof Replacement: Old asphalt roof tear off replaced with CertainTeed composite roof
Length of Roofing Project: 4 to 5 days
Roof Warranty
Fire, Wind, Tear and Wind Driven Rain Resistance
Industry-best Lifetime, limited transferable warranty
50-year material and 25-year workmanship warranty
10-year SureStart™ warranty (100% replacement and labor costs due to manufacturing defects)
15-year StreakFighter® warranty against streaking and discoloration caused by airborne algae
15-year, 110 mph wind-resistance warranty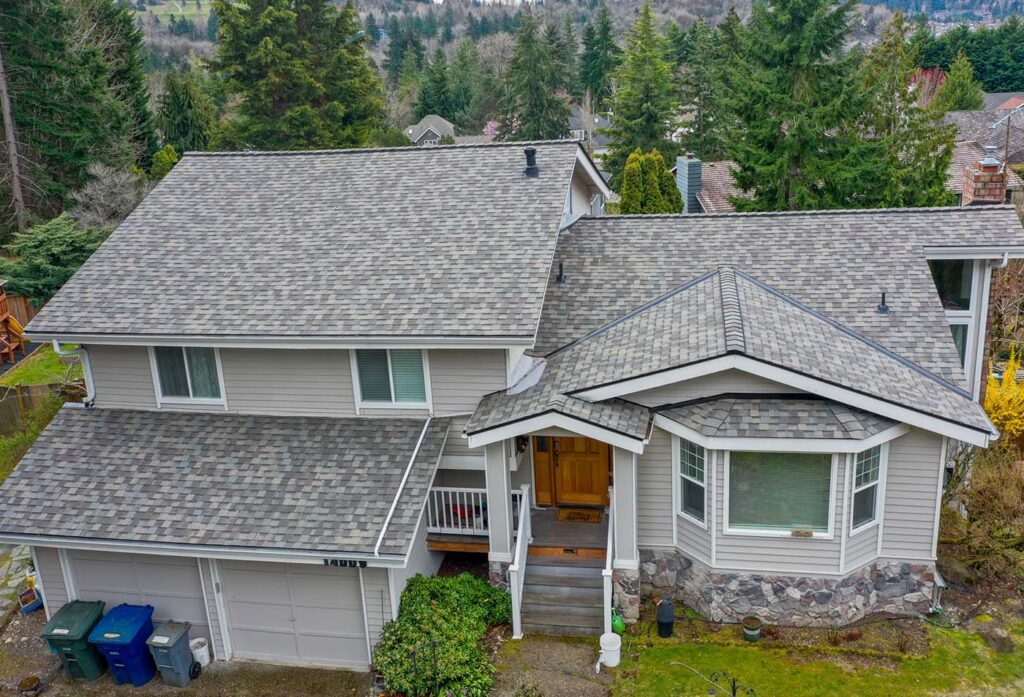 Family Owned & Operated Seattle Roofing Company
Three Tree Roofing is a family-owned and operated roofing company serving the greater Puget Sound Area. We are dedicated professional roofers who specialize in residential, multifamily, and commercial roofing. For over 15 years, we have been successfully solving both complex and straightforward roofing problems. Our dedication to customer satisfaction and providing top quality roofing services has given us the opportunity to build long-lasting relationships with our clients. As knowledgeable and trusted roofing contractors in the Seattle area, our clients rely on us to provide the highest quality roofing solutions for their roofing projects. Please contact us for your no-obligation estimate or give us a call at 206-312-7663 (ROOF)!
.
Certified Roofer
Get A Free Estimate
We are ready for your business! Please contact us using the methods below to get your no-obligation estimate.
Or call us at
206-312-7663

(ROOF)