Mercer Island Composite Shingle Roofing Project: A Display of Craftsmanship and Endurance
Striking Blend of Quality Materials and Expert Installation
In our recent project on Mercer Island, we breathed new life into a home using top-tier composite shingles. We used Certainteed Landmark's TL, a triple laminate shingle in the appealing Black Walnut color. The TL (triple laminate) variation ensures an extra layer of fiberglass matt, creating a three-layer composite shingle. The added thickness not only enhances the visual appeal of the roof but also fortifies its endurance to live up to its 50-year material warranty.
Outstanding Warranty Coverage for Peace of Mind
Besides the extensive material warranty, the roof comes with a 25-year workmanship warranty, one of the best in the industry. Even if we were to relocate, CertainTeed ensures that a certified contractor will provide necessary repairs free of charge, honoring the labor warranty. Furthermore, the warranty coverage remains valid even if you sell the house, making it a fantastic value proposition for potential buyers.
Top-Notch Crew for Exceptional Outcomes
The successful execution of this project owes a lot to our skilled and dedicated crew at Three Tree Roofing. Their meticulous workmanship and commitment to delivering the best results ensure that homeowners receive a roof that is beautifully installed and stands the test of time.
Attention to Detail and Quality Replacements
During the installation, we noticed several areas where the siding met the roof, which demanded extra care. We replaced all the transitional metal in these regions, a step some roofing companies might overlook. Opting for a black metal to match the shingles, we successfully maintained the roof's uniform look and ensured an impeccable standard of craftsmanship.
Optimizing for Seasonal Comfort
This roof features a Ridge Vent system at the top, a key component for maintaining a comfortable home environment. The ridge vent aids in keeping the attic cool during the hot summer months and minimizing dampness during the wet winter season. The circulation of air in the attic is crucial for maintaining optimal living conditions in the house, given our region's high moisture levels.
Should you have any questions about our residential or commercial roofing services, feel free to call us at 206-312-ROOF (7663). Your perfect roof is just a call away!
Mercer Island Roofers share knowledge about roofing, roofing projects, and fun in Mercer Island, Washington.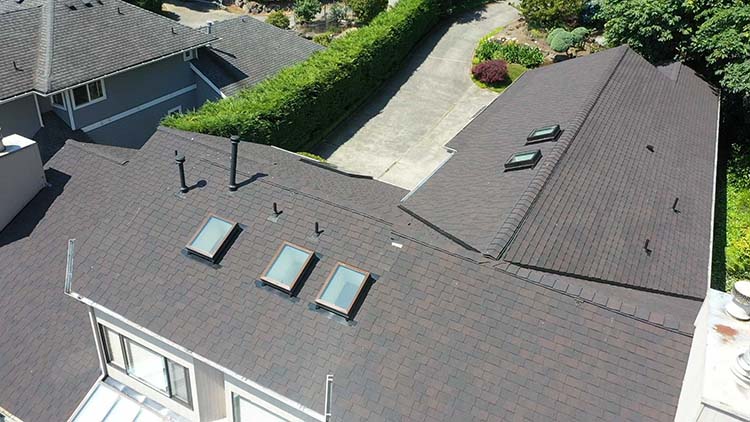 Trusted Performance and Quality Materials
As a Certified CertainTeed Roof Installer, Three Tree Roofing is proud to have the opportunity to offer the CertainTeed Integrity Roof System. With a 100 + year legacy of trusted performance, CertainTeed offers over 300 Roofing options backed by manufacturing excellence and quality materials.
Roofing Project Details
Roofer: Three Tree Roofing CertainTeed Expert Team
Roofing Project Location: Mercer Island, Washington
Type of Roof: CertainTeed Landmark TL triple laminate composite shingles
Type of Roofing Project: Residential Roof
Roof Color: Black Walnut
Scope of Work: Installation of composite shingle roof, replacement of transitional metal
Key Features
Triple layer composite shingles
Ridge Vent system for air circulation
New black transitional metal
Roof Warranty
50-year non-prorated Material Warranty
25-year Workmanship Warranty
Fully Transferable Warranty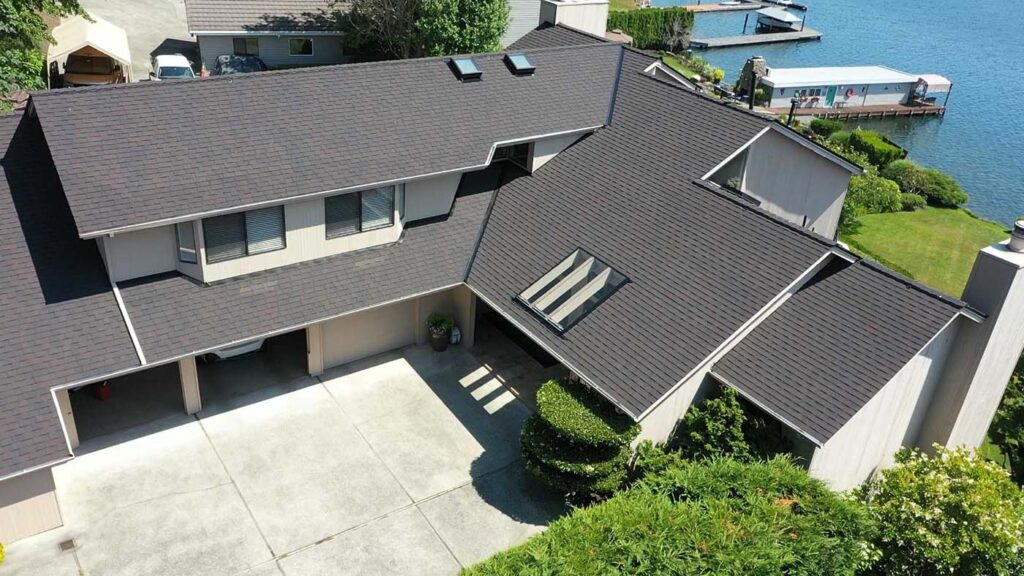 Three Tree Roofing: Your Trusted Seattle Roofing Company
Our dedication to customer satisfaction and providing top quality roofing services has given us the opportunity to build long lasting relationships with our clients. As a family-owned and operated roofing company serving the greater Puget Sound Area, we at Three Tree Roofing pride ourselves on our professional, high-quality roofing services. With a track record of successfully solving complex and straightforward roofing problems, we continue to provide top-tier roofing solutions that not only meet but often exceed our clients' expectations. Whether it's a residential or commercial project, we're here to offer expert guidance and services. Contact us today for your no-obligation estimate, at 206-312-7663 (ROOF)!
Certified Roofer
Get A Free Estimate
We are ready for your business! Please contact us using the methods below to get your no-obligation estimate.
Or call us at
206-312-7663

(ROOF)