Nu-Ray Metals Roof, A Unique Blend of Style, Functionality and Longevity
It's always a great feeling to finish a roofing project that looks fantastic. Three Tree Roofing recently completed this gorgeous Nu-Ray metal roof in Bellevue, Washington. The original composition roof had thinner plywood than standard, which posed challenges over the years due to not meeting current codes and suffering deterioration. We installed new half-inch CDX plywood for the entire roof deck, ensuring the roof's structural integrity and compliance with modern standards.
The panels chosen for this installation, customized to the house, ensure a clean roof installation and sleek appearance while providing durability against various weather conditions. We installed the Nu-Ray Metal Products NRM-1000, a 24-gauge panel in a matte black finish with 16-inch ribs, an architectural metal roofing system featuring a unique blend of style, functionality, and longevity that utilizes a hidden clip fastener system, eliminating the need for exposed screws on the roof.
Adding a turn-down drain, was a practical solution, ensuring efficient water drainage and preventing potential issues down the line. We installed all new fascia and bargeboard, crucial to maintaining the roof's overall look and function, and added new gutters with stainless steel mesh screens to prevent debris buildup and optimize gutter performance.
To learn more about our services or to request a no-obligation estimate, feel free to reach out to us online or give us a call at 206-312-ROOF (7663) We are here to answer all your roofing questions and to guide you through the process of choosing the perfect roofing solution for your home or business.
Bellevue Roofers share knowledge about roofing, roofing projects, and fun in Bellevue, Washington.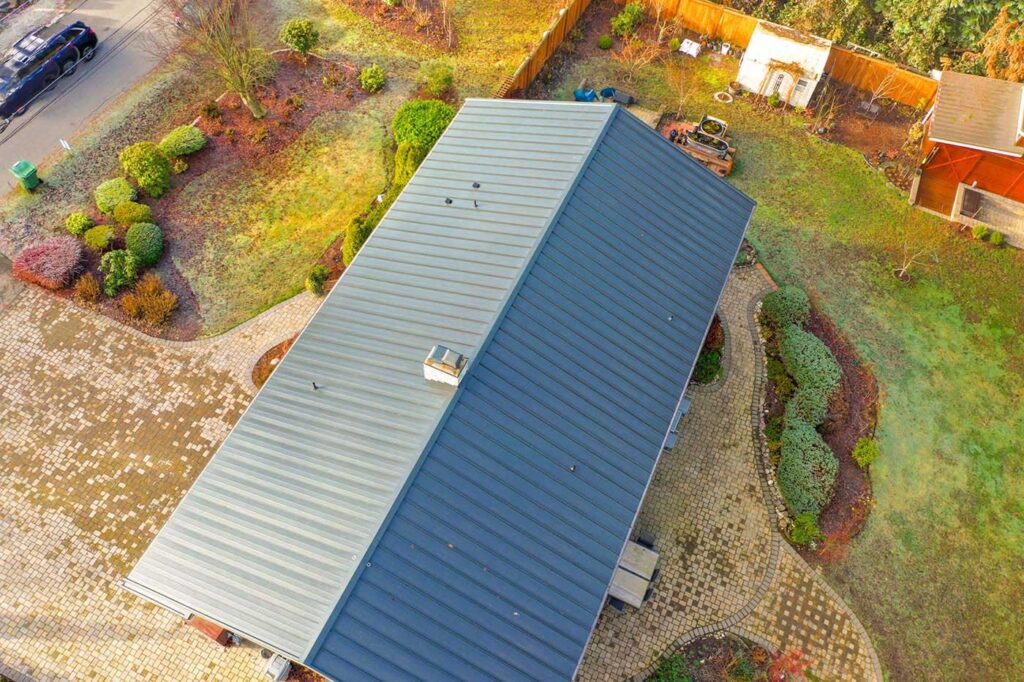 Low Maintenance and High Performance, Nu-Ray Metals NRM-1000
Three Tree Roofing offers the best of Nu-Ray roofing products to our customers. Nu-Ray products have special features such as cool metal roofing with heat deflective options and an innovative snap-lock system. As the leader in metal roofing and siding, Nu-Ray's extensive color palette offers choices that will complement any architectural style and building materials.
Roofing Project Details
Roofer: Three Tree Roofing Metal Roofer Expert Team
Roofing Project Location: Bellevue, Washington
Type of Roof: Nu-Ray Metals Steel Roofing and Siding Products Roof
Type of Material: Nu-Ray NRM-1000 with classic 16" Pencil Ribbed Panels, 26 Gage
Type of Roofing Project: Residential Metal Roofing
Roof Color: Matte Black
Type of Roof Replacement: Composition roof tear off replaced with Nu-Ray NRM-1000 with classic 16" Pencil Ribbed Panels
Length of Roofing Project: 3 to 4 weeks
Key Features
Half-inch CDX plywood for the entire roof deck
All new fascia and bargeboard
New gutters with stainless steel mesh screens
A turn-down drain for efficient water drainage
Roof Warranty
Fire, Wind, Tear and Wind Driven Rain Resistance
25 year material and workmanship warranty
Family Owned & Operated Seattle Roofing Company
Our dedication to customer satisfaction and providing top quality roofing services has given us the opportunity to build long lasting relationships with our clients. As knowledgeable and trusted roofing contractors in the Seattle area, our clients rely on us to provide the highest quality roofing solutions for their roofing projects. Contact Us for your new roof or call us at 206-312-ROOF (7663)!
We carry these great roofing products
Get A Free Estimate
We are ready for your business! Please contact us using the methods below to get your no-obligation estimate.
Or call us at
206-312-7663

(ROOF)