Eco-Friendly Euroshield® Rundle Roofing in Redmond
From Scrap to Superiority: Euroshield® Rundle Synthetic Roofing Installation
Get ready to be awed as we transform what used to be 300 car tires, or the rubber equivalent of 75 cars on the road, into a long-lasting, beautiful roof. Our latest project, featuring the Euroshield® Rundle roof in classic black, demonstrates how discarded materials can be recycled and repurposed into a luxurious roofing material and make a positive environmental impact.
This synthetic roofing product is designed to endure for an impressive amount of time, backed by a 50-year product warranty. Furthermore, our workmanship at Three Tree Roofing comes with a 20-year warranty, providing our clients with a double layer of assurance. More than just providing a highly durable roof, we contribute to environmental conservation by keeping substantial waste out of our landfills. This project is a brilliant example of the future of roofing, embracing both sustainability and superior quality.
The finished product has exceeded our hopes and the client's expectations. The final aesthetic appeal of this roof, complemented by its incredible lifespan and impact resistance, results in a roofing solution that's hard to beat.
Three Tree Roofing installed a new 5K gutter system. When shifting to synthetic roofs like this one, it's crucial to adjust the height of the gutter, which often means the removal of the old gutters. So, in this case, installing new gutters was essential, ensuring the entire roofing system works harmoniously.
Remember, when you opt for a roofing solution like Euroshield® Rundle, you make a lasting investment in your property and the planet. We're always here to help. For any questions or if you're considering a similar project, feel free to give us a call at 206-312-7663 (ROOF)!
Redmond Roofers share knowledge about roofing, roofing projects, and fun in Redmond, Washington.
Modern Roofing Built To Last, Euroshield® Rundle
The Euroshield® roofing system has an unbeatable warranty that gives the peace of mind of having an almost indestructible roof over your head. Designed to overcome extreme weather impact and temperature variances that cause splitting, peeling, cracking, and rotting—all undesirable characteristics associated with the aging of many other roofing systems—Euroshield® products feature small cubical chambers to ensure structural integrity and additional sound-deadening and insulating qualities.
Rundle synthetic slate provides the appeal of upscale, extra-thick, chiseled-edge slate but with the relative lightness of rubber and the guaranteed durability of a roof that will last a lifetime – all at a significantly lower cost than real slate.
Roofing Project Details
Roofer: Three Tree Roofing Expert Team
Roofing Project Location: Seattle, Washington
Type of Roof: Euroshield® Rundle Synthetic Roofing
Type of Roofing Project: Residential Roof
Roof Color: Black
Type of Roof Replacement: Roof tear-off replaced with Euroshield® Rundle synthetic roof
Length of Roofing Project: 2 to 3 days
Project Extras
Roof Warranty
50-year non-prorated Material Warranty
20-year Workmanship Warranty on Labor
Fully Transferable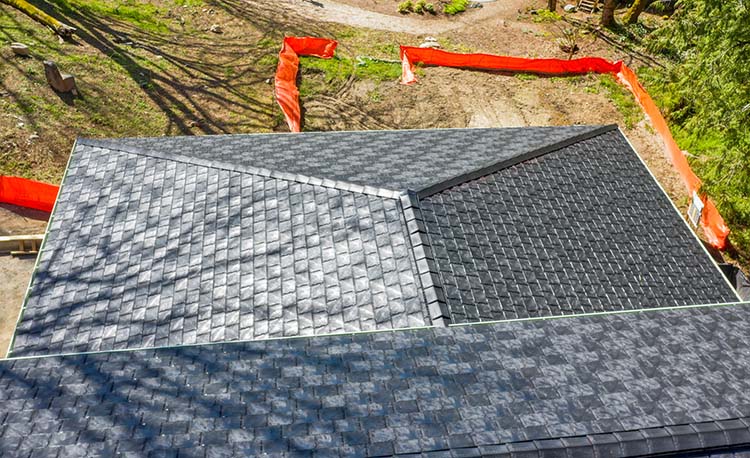 Three Tree Roofing: Your Trusted Seattle Roofing Company
As a family-owned and operated roofing company serving the greater Puget Sound Area, we at Three Tree Roofing pride ourselves on our professional, high-quality roofing services. With a track record of successfully solving complex and straightforward roofing problems, we continue to provide top-tier roofing solutions that not only meet but often exceed our clients' expectations. Whether it's a residential or commercial project, we're here to offer expert guidance and services. Contact us today for your no-obligation estimate, at 206-312-7663 (ROOF)!
Get A Free Estimate
We are ready for your business! Please contact us using the methods below to get your no-obligation estimate.
Or call us at
206-312-7663

(ROOF)