Exciting Commercial Building Roof Transformation in Tukwila, Washington
Three Tree Roofing recently completed another commercial roofing project in Tukwila, Washington. This building's roof began as a torch-down roof, a common type of flat roof in our region. As seen in the video, our team diligently tore off the old material using sponge shovels and then placed the debris in a container for recycling. The material is ground up and repurposed as asphalt for roads, an environmentally responsible process for our roofing operations.
Wanting to use newer and more efficient products, we installed a WeatherBond 60mil gray TPO membrane. This roofing material is not only recyclable but also excels in reflecting heat, ensuring that the building remains cool during the summer months. The installation involved detailed work on all perimeter edges before rolling out the large rolls of material. The result is a high-performing roof that complements the building while ensuring superior protection from the elements. This project is one of our many jobs representing our commitment to quality and environmentally conscious practices.
If you have any questions about residential or commercial projects, feel free to contact us for your new roof or give us a call at 206-312-7663 (ROOF)! Thank you.
Tukwila Roofers share knowledge about roofing, roofing projects, and fun in Tukwila, Washington.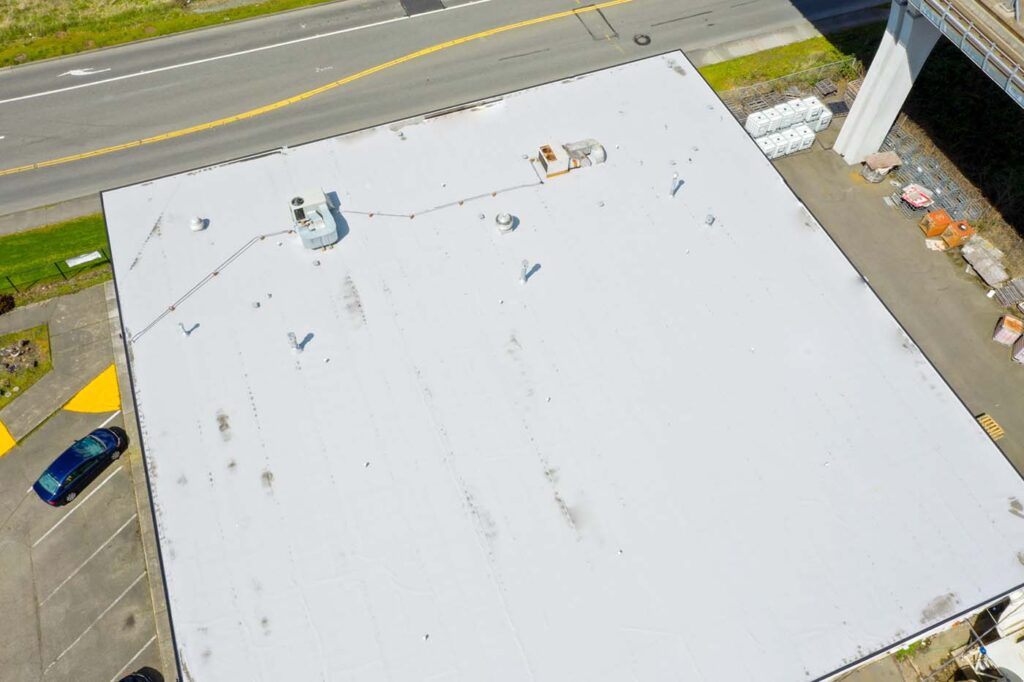 Trusted Performance and Quality Weatherbond TPO Membrane Roof
As a Certified Weatherbond Roof Installer, Three Tree Roofing is proud to have the opportunity to offer the Weatherbond Membrane Roof System. With a legacy of trusted performance, Weatherbond offers roofing options backed by manufacturing excellence and quality materials. TPO is a 100% waterproof chemically resistant thermo-polyolefin membrane that has become the leading choice for low-pitched and flat roofs in Washington State. TPO roofs are both long-lasting and energy-efficient. A benefit of a TPO membrane roof is it's a maintenance-free roofing system.
Roofing Project Details
Roofer: Three Tree Roofing Weatherbond TPO Roofer Expert Team
Roofing Project Location: Tukwila, Washington
Type of Roof: Weatherbond flat TPO Roof
Type of Material: Weatherbond .60mil TPO
Type of Roofing Project: Commercial Flat Replacement
Roof Color: Gray
Type of Roof Replacement: Old torchdown roof replaced with Weatherbond Flat TPO Membrane Installation
Length of Roofing Project: 3.5 Weeks
Project Highlights
Transition from torch down roof to TPO membrane
Detailed work on all perimeter edges
Old roofing material recycled into asphalt for roads
Roof Warranty
Weatherbond 20-year Material Warranty
Weatherbond 20-year manufacturer backed workmanship warranty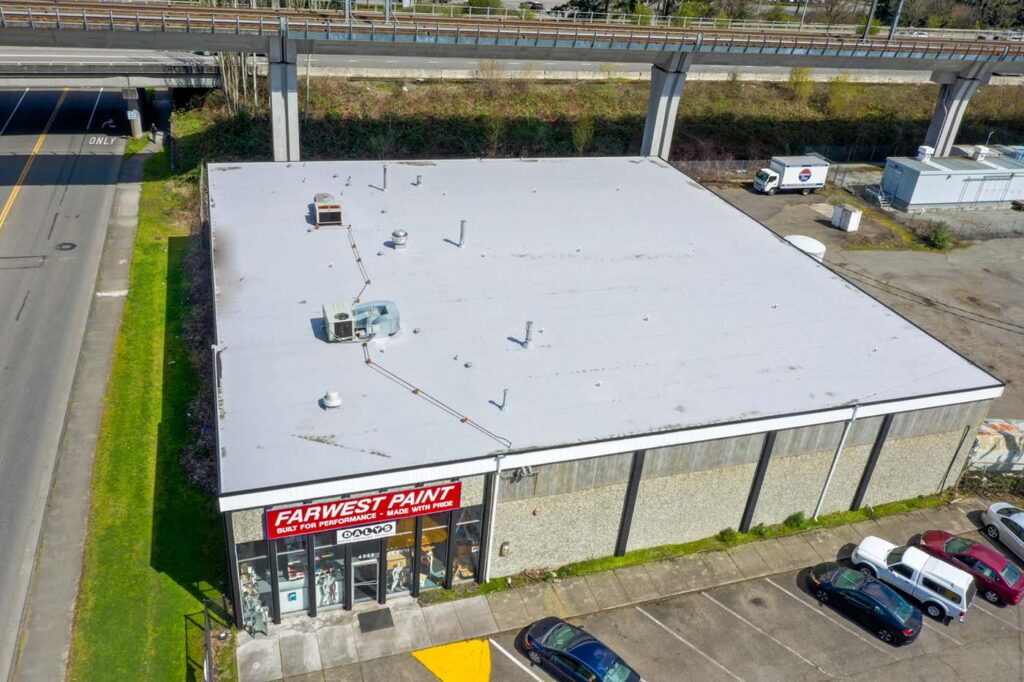 Family Owned & Operated Seattle Roofing Company
Three Tree Roofing is a family-owned company specializing in both residential and commercial roofing. Our dedication to customer satisfaction and providing top quality roofing services has given us the opportunity to build long lasting relationships with our clients. As knowledgeable and trusted roofing contractors in the Seattle area, our clients rely on us to provide the highest quality roofing solutions for their roofing projects.
Our expertise extends over 15 years, within which we've successfully tackled complex and straightforward roofing problems alike. For a no-obligation estimate or any questions about your roofing needs, Contact Us or call us at 206-312-7663 (ROOF)!
Certified Roofer
Get A Free Estimate
We are ready for your business! Please contact us using the methods below to get your no-obligation estimate.
Or call us at
206-312-7663

(ROOF)