Stunning Matte Black Metal Roof Transformation in Redmond, Washington
This high-quality Nu-Ray NRM-1000, 24 gauge, Metal Roof Installation in Redmond, Washington, is one of our favorites—a fantastic transformation from a traditional composition roof to a state-of-the-art metal roofing system. The roof on this house initially featured the most commonly used roofing material, composition. However, the owners wanted something unique and outstanding. We opted for a metal roof conversion, a remarkable upgrade, as evidenced by the before and after photos. The panel chosen for this project is a stylish matte black color, the Nu-Ray NRM-1000, with 16-inch wide metal panels featuring a pencil rib down the middle, adding texture and enhancing the roof's aesthetic appeal.
As seen in the video, our team of skilled roofers is captured diligently working on the metal installation. Prioritizing safety, you will notice that all our workers use safety anchors, harnesses, and ropes. We integrated two fixed skylights and two opening skylights into the design. The opening skylights provide an innovative solution for ventilation, especially during hot days, allowing a refreshing breeze to flow through the house. This feature has grown in popularity, and we have been installing it more frequently on recent projects. The final product is an impressive roof that combines elegance, low maintenance, and durability.
An additional advantage of this metal roof is it's solar-ready configuration. If the homeowners decide to integrate solar power in the future, the process will be easy. The clips required for solar panel installation pinch right onto our metal roofs, eliminating the need to poke any holes in the metal, thereby preserving the roof's integrity. If you have any questions about residential or commercial roofing or are considering a similar transformation for your home, feel free to give us a call at 206-312-7663 (ROOF)! Thank you.
Redmond Roofers share knowledge about roofing, roofing projects, and fun in Redmond, Washington.

Low Maintenance and High Performance, Nu-Ray Metals NRM-1000
Three Tree Roofing offers the best of Nu-Ray roofing products to our customers. Nu-Ray products have special features such as cool metal roofing, deflective heat options, and an innovative snap-lock system. As the leader in metal roofing and siding, Nu-Ray's extensive color palette offers choices that complement any architectural style and building materials.
Roofing Project Details
Roofer: Three Tree Roofing Metal Roofer Expert Team
Roofing Project Location: Redmond, Washington
Type of Roof: Nu-Ray Metal NRM-1000 Metal Roofing
Type of Roofing Project: Residential Metal Roof
Roof Color: Matte Black
Type of Roof Replacement: Roof tear-off replaced with Nu-Ray NRM 1000 metal residential roof
Length of Roofing Project: 4 to 5 weeks
Project Extras
Two Fixed Skylights and Two Opening Skylights>
Warranty
40-year non-prorated Material Warranty
20-year Workmanship Warranty on Labor
Fully Transferable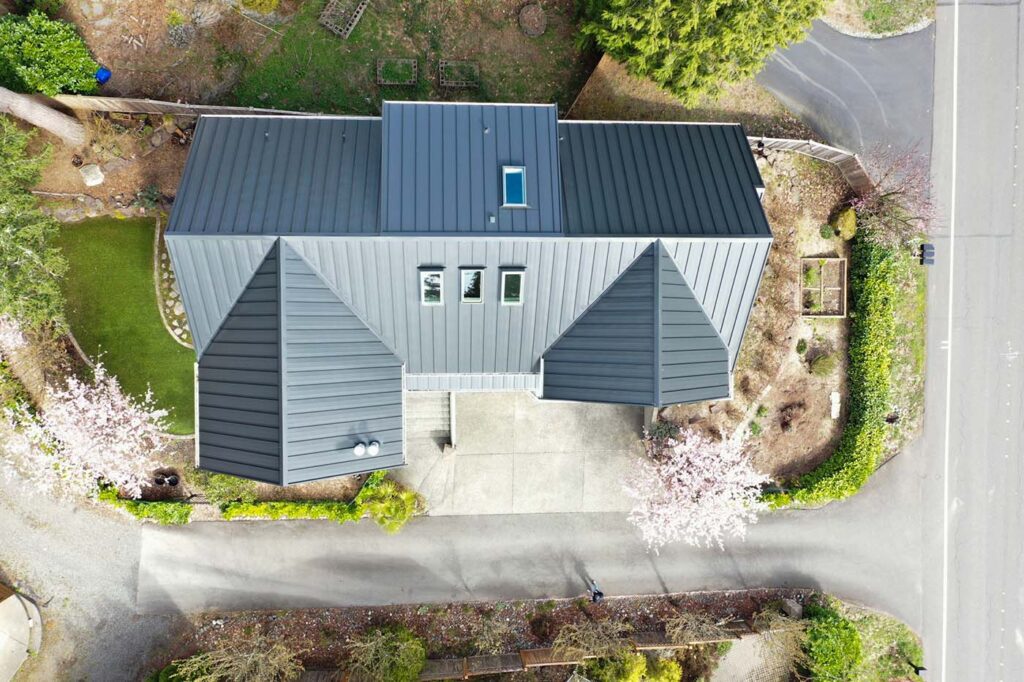 Family Owned & Operated Seattle Roofing Company
Three Tree Roofing is a family-owned and operated roof company serving the greater Puget Sound Area. We are dedicated professional roofers specializing in residential, multifamily, and commercial roofing. For over 15 years, we have successfully solved complex and straightforward roofing problems. Our dedication to customer satisfaction and providing top quality roofing services has given us the opportunity to build long-lasting relationships with our clients. As knowledgeable and trusted roofing contractors in the Seattle area, our clients rely on us to provide the highest quality roofing solutions for their roofing projects. Contact Us for your no-obligation roof estimate or call us at 206-312-7663 (ROOF)!
We carry these great roofing products
Get A Free Estimate
We are ready for your business! Please contact us using the methods below to get your no-obligation estimate.
Or call us at
206-312-7663

(ROOF)