Sherwood Forest Project
The previous roof of this beautiful Edmonds home was cedar shake which we removed and replaced with CertainTeed Presidential Granite Gray shingles. We repaired any necessary plywood and installed Mountain Ridge high profile ridge shingles to provide excellent protection from the elements for this lovely house in a vivid neighborhood near Seattle, WA. The new CertainTeed Presidential Granite Gray installation provides beautiful aesthetics while protecting the homeowner's investment so they can enjoy living in their home for many more years!
Our clients rely on us to provide the highest quality residential and commercial roofing solutions for their roofing projects. If you have any questions about this project or other projects, feel free to reach out to us. Contact Us for your free roof estimate or give us a call at 206-312-7663 (ROOF)!
Edmonds Roofers share knowledge about roofing, roofing projects, and fun in Edmonds, Washington.
Accomplished the Job Quickly and Efficiently

It went wonderfully! They were very professional, friendly and accomplished the job quickly and efficiently. The crew that came was friendly and cleaned up after themselves. They were able to get the job done in 3 days. The owner, Neil, kept me apprised of any changes and made sure the job was done right and I was satisfied. I would highly recommend them to anyone.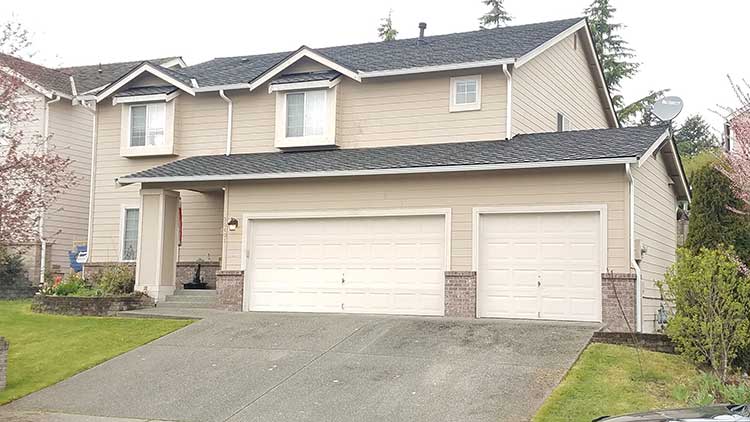 Trusted Performance and Quality CertainTeed Presidential TL
Three Tree Roofing is a CertainTeed 5-Star Certified Contractor. Our installers are factory trained and certified to the highest standards in the industry. As a Select Shingle Master Contractor, we offer CertainTeed's 5-Star Contractor Warranty including a 50-year material warranty, 25-year fire resistance, high wind, and hail warranty, and a 25-year workmanship warranty, backed by the manufacturer.
Roofing Project Details
Roofer: Three Tree Roofing CertainTeed Roofer Expert Team
Roofing Project Location: Edmonds, Washington
Type of Roof: Composite Asphalt Roof
Type of Material: CertainTeed Composite Asphalt Shingles
Type of Roofing Project: Residential Composite Asphalt Replacement
Roof Color: Granite Gray
Type of Roof Replacement: CertainTeed Presidential Composite Asphalt Shingles Installation
Length of Roofing Project: 3 Days
Roofing Project Extras
Added a continuous ridge vent system along the rooftop
Installed Mountain Ridge high-profile ridge shingles
Repaired old plywood
Roof Warranty
Industry Best 50 year material warranty
Industry Best 25 year manufacture backed workmanship warranty
Lifetime transferable warranty
10-year SureStart™ protection
15-year StreakFighter®algae-resistance warranty
15-year 110 MPH wind-resistance warranty (upgrade to 130 mph available)
Family Owned & Operated Seattle Roofing Company
Our dedication to customer satisfaction and providing top quality roofing services has given us the opportunity to build long lasting relationships with our clients. As knowledgeable and trusted roofing contractors in the Seattle area, our clients rely on us to provide the highest quality roofing solutions for their roofing projects. Contact Us for your new roof or call us at 206-312-7663 (ROOF)!
Certified Roofer
Get A Free Estimate
We are ready for your business! Please contact us using the methods below to get your no-obligation estimate.
Or call us at
206-312-7663

(ROOF)