Having a new roof installed is a large undertaking and a major investment for most homeowners! Being both homeowners and running a roofing company in the Seattle / Puget Sound area, we wanted to share our thoughts on how to find a roofer. If you are reading this article and need a new roof, you are taking a great first step: doing your research before you hire a roofing company. Let's jump into the seven tips of how to find the roofer that's right for you. Enjoy the video version of this article or continue reading.
---
---
Tip #1: Get a Roofer Referral from Someone You Trust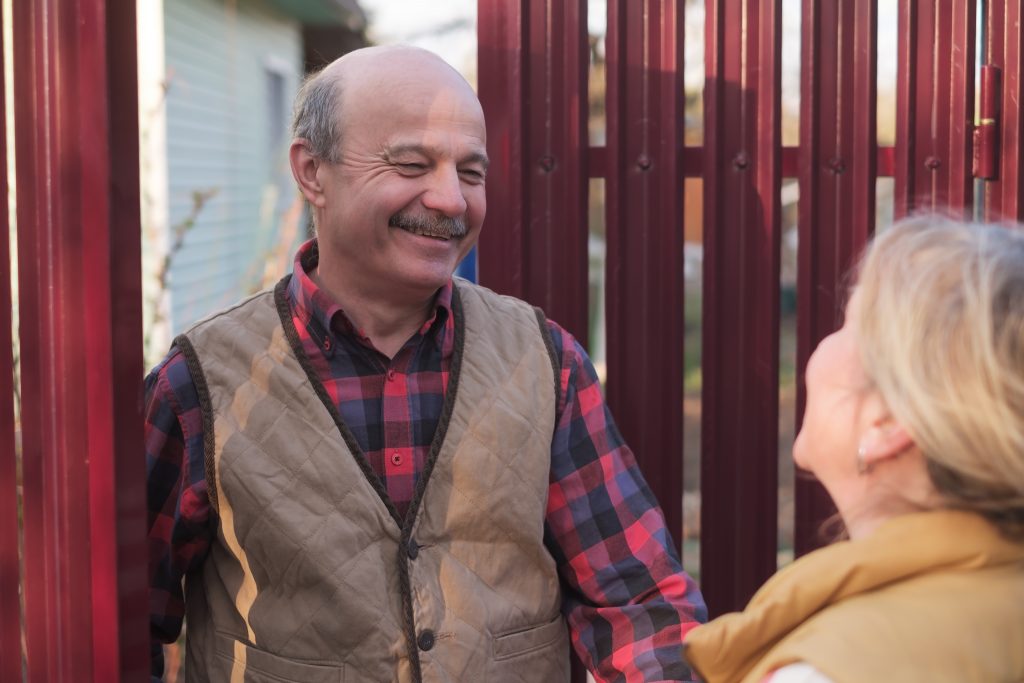 Eliminate the Bad Roofers
The best way to find a roofing contractor is to get a referral from someone you trust. Ask your neighbors, friends, family, and co-workers if they've personally had a roof installed or if they know of anyone else who has. NextDoor is a great app to connect with neighbors. Maybe your friends don't know of the best local roofing contractors, but they might know of the bad ones which will at least help you eliminate some roofers.
Consider All the Factors when it comes to Roofer Candidates
When installed correctly using the best materials, a roof should last twenty to fifty years. Because of this, you shouldn't be making your decision solely based upon the recommendation of people who have gotten their roofs in just the last year or two. Getting a referral from someone with a new roof can help you determine that a contractor is professional and reliable, but it might not be the best indication of the quality of their work. Try to find people with new roofs and older roofs that have stood the test of time over several years as well.
No Roofer References? Fallback = Online Reviews
Due to privacy concerns, we do not post references online. Most of our previous clients do not want to get hundreds of phone calls, hence we do not share references from previous clients. However, online reviews are an excellent alternative if you do not know anyone you trust whom has previously worked with a roofer. With online reviews, you get a sampling of many previous clients of a roofing company. Are you looking for a roofer in the greater Seattle area or Puget Sound? Give us a call at 206-312-7663 (ROOF).
Call Us
▲   Back to Menu
---
Tip #2: Research Roofers Online
Review the Roofer's Online Reviews
If you don't know anyone who has a trusted local contractor, search online review sites like Yelp as well as social media. Make sure you thoroughly look through the reviews. If the reviews are all five stars and overwhelmingly long and detailed, be wary. They may be fake reviews, especially if they all sound like they were written by the same person!
Real people tend to leave short, snappy reviews about loving a roofer. A legitimate roofing company will have primarily positive reviews, but it's often normal for them to have some displeased customers as well. Just make sure you read why they are displeased and do not be afraid to ask the roofer about those bad reviews to hear both sides of the story.
Three Tree Roofing Reviews
Here are some links to some of our online reviews from third party service review websites.
450+
Total 5-Star Reviews
Check the Roofer's Website
Review the top roofing contractor's websites. You should be able to view a roofing project portfolio with photos of their work. Every roofing project is different, so ideally you should hire a contractor who has experience with your type of roof specifically. While you're on the website, read any information there is about the actual crew. Professional roofing companies should be doing the work themselves with their own employees, and not hiring subcontractors.
Roofing Experience Matters
One of the top things you should be looking for in a roofing company is experience. If you see that a roofing company has already been around for many years, this is a great sign! It means they are both experienced and they deliver high-quality work.
▲   Back to Menu
---
Tip #3: Avoid Storm Chasers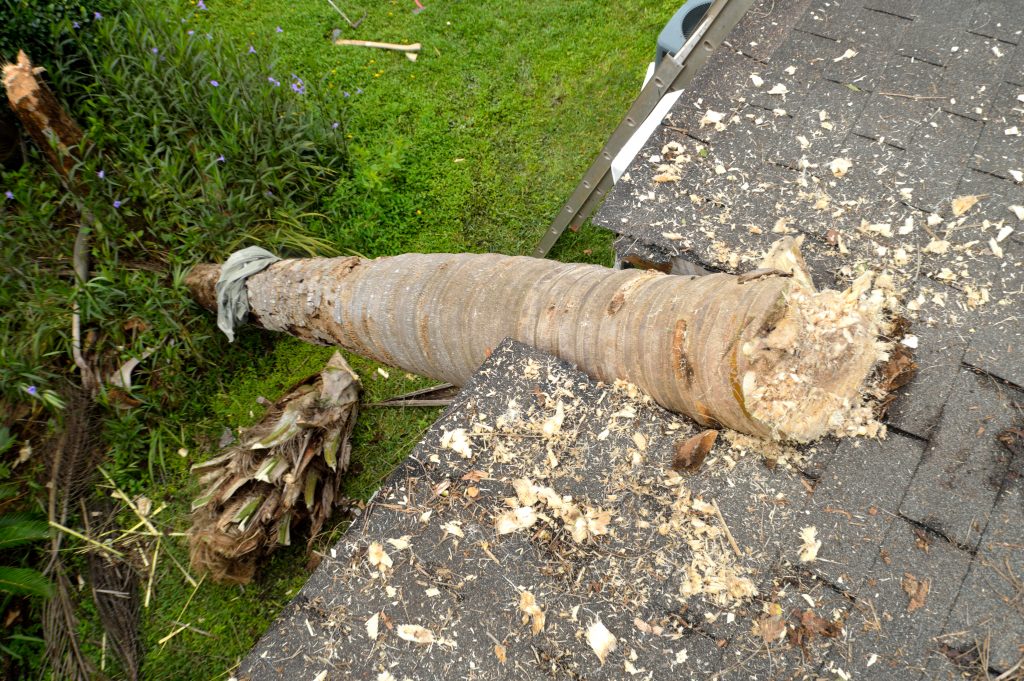 Avoid Scammers
There are also a few ways you should not find your contractor. For example, some roofing contractors will try to take advantage of you right after a big storm. Roofing contractors that are worth paying for won't be making house calls, knocking on your door and telling you they noticed your damaged roof while at your neighbor's home. These people are scam artists and should be avoided at all costs.
Three Tree Roofing Privacy Policies
We rely on marketing via word of mouth and professional marketing and advertising efforts to build new business. We do not, and never will go door to door, knocking on neighbors' doors to try and gain new clients. The only time we will be knocking on someone's door is after we have established a connection through professional marketing channels and/or have been invited by the homeowner to make a house call for an estimate.
▲   Back to Menu
---
Tip #4: Talk to the Best Roofing Candidates Directly
The Magic Number 3
It's important that you narrow it down to a few choices, ideally three, before you make your final decision. These are the three contractors you should contact. Get quotes from them and ask them questions.
Interview Questions to Ask Roofers
Below is a list of questions you should ask roofers when calling them for the first time. We have also included the answers we give to people calling to give you an idea of our answer to these questions.
How long will it take to get started on my roof?
+
---
Do you use sub-contractors to work on any of your company's work?
+
---
Does your company have any online reviews?
+
---
Where is your office located and do you mind drop-ins?
+
---
Check the Roofer's Credentials
Always verify the roofing contractor's credentials! Any roofing contractor that's worth paying for should be fully licensed based on your state's regulations. They should also be able to show you proof of insurance, including worker's compensation and liability insurance. You should not only ask the contractor to show proof of their insurance, but you should also call their insurance provider to ensure the information is valid.
You can also check on a contractor in the state of Washington at the Washington State Department of Labor & Industries.
Three Tree Roofing Roofer Credentials
Below are links to Three Tree Roofing's Washington State Department of Labor & Industries Contractor License, Worker's Compensation Insurance, Proof of Insurance for Three Tree Roofing and Liability Insurance.
▲   Back to Menu
---
Tip #5: Judge the Roofing Company's Customer Service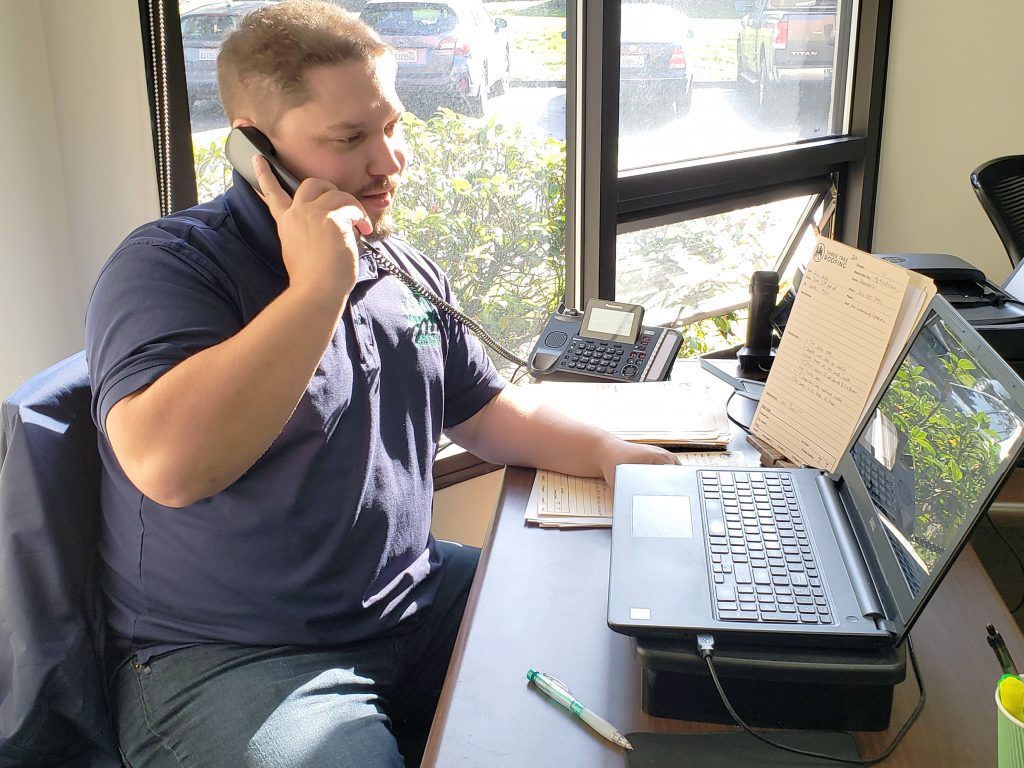 How is their Phone Voice?
The best roofing companies will differentiate themselves on the phone. When you call, they should actually answer their phones rather than send you to an answering machine every time you call. If they do happen to miss your call, they should return your call promptly. On the phone, you should be met with friendly, helpful staff. If you aren't, you shouldn't be expecting anything better from the roofing contractors themselves.
In Seattle and In Need of a Roofer?
Are you looking for a roofer in the greater Seattle area or Puget Sound? Give us a call at 206-312-7663 (ROOF). If we do not answer, leave a message and we will call you back as soon as possible.
Call Us
Sloppy Thinking Leads to Sloppy Outcomes
Lastly, it's important that the office staff is efficient. They should have your information organized so it's easily accessible each time you talk to them. All these details may seem like little things, but they all show the quality of the service you're getting.
Consistent Process
Our Process for each job follows a proven defined process that provides the best results for our customers every time. Our standards and consistent processes are critical components in achieving excellence.
Consistent Process
▲   Back to Menu
---
Tip #6: Don't Choose a Roofer Based on Materials Alone
Workmanship and Roofing Ninja Skills
Even if a contractor uses the highest-quality materials, they won't be able to provide you with a high-quality roof if they have low-quality workmanship. The best contractors should know the right materials and techniques that produce high-quality work. In fact, a large amount of the work that the best contractors do is just replacing poorly installed roofs from ill-experienced contractors.
Three Tree Roofing Experience and Training
Our team of professionals are fully certified, insured and bonded roof specialists who are trained in roofing installation and manufacturer trained. We guarantee that every job will be installed with the highest quality materials and workmanship by specialists trained in installing your type of roof. In addition to our residential division of trained roofers, we also have a dedicated commercial flat roofing team to ensure that you have the very best craftsmen for your type of roofing project.
Dedicated Team
Say What You Do and Do What You Say
When it comes to Roofing, it's important to choose a local company that has a successful, established business with a strong reputation. Not only does this help ensure the quality of the work, but it also helps with the warranty. Some unscrupulous roofing contractors will say they offer a warranty, but if there's actually an issue a year or two later with the quality of their work, they're nowhere to be found. They've moved their business to outrun unhappy customers.
Redundant Warranties = Double Coverage for Your Roof
In addition to the Three Tree Roofing Warranty which covers your roof for 20 years, we are certified by our manufacturers. We are a 5-star CertainTeed Contractor, Malarkey Roofing Products Emerald Premium Contractor, and a WeatherBond Roofing System Contractor. What this means is we have gone through the proper training and meet all the other criteria for these manufacturers to have confidence in us to install your roof with their materials. They have so much confidence in us they are willing to warranty the work we perform on your roof. This gives you an extra warranty time (25 Year Lifetime with a "15 year transferrable" warranty for CertainTeed and a 20 Year Lifetime warranty for WeatherBond) your roof is covered should anything fail and similar manufacturer warranties for the other manufacturers. When you work with Three Tree Roofing, we have your back, twice.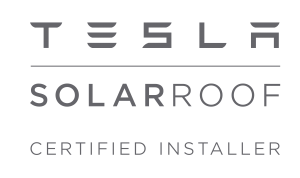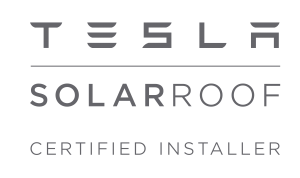 Certified Roofer
Certified Roofer
We carry these great roofing products
▲   Back to Menu
---
Tip #7: Get Everything in Writing—And Read It!
You should get all the terms of the job in writing including how long the roofing project will take and the size of the crew needed to complete the job. Both you and your roofer should be able to arrive at an agreement in writing. The roofing company also shouldn't be asking you to pay for the entire job upfront. A deposit and payment plan is standard with payment in full upon completion of the roof.
Three Tree Roofing Financing Options
All of our customers can apply for our financing options through our partner financing Hearth. This provides all of our clients who qualify, the opportunity to break the cost of your new roof into predictable monthly payments.
Financing Options
You should always read any paperwork given to you by your contractor, including the contract and the warranties. Ideally, the materials and labor should be guaranteed for at least five years. However, the materials themselves should be protected by a warranty of 20 to 40 years.
All Questions Answered
Part of the Three Tree Roofing process is to answer all your questions and make sure you have a good understanding of the paperwork, process and what to do after your new roof is installed.
Consistent Process
▲   Back to Menu
---
Tip #8: How to Find a Seattle Roofer in the Puget Sound Area
In Seattle and In Need of a Roofer?
Want to know how to choose a roofing contractor in the Puget Sound area? You can't do any better than hiring Three Tree Roofing. Whether the project is residential or commercial, an installation on a new home or a roof replacement, you can expect high-quality work backed by our 15-plus years of experience. For a free estimate on your roofing needs, contact us today! 206-312-7663 (ROOF).
Call Us
Residential Roofing Seattle
Lake Washington Metal Roof with high temp ice and water shield, new insulation, new fascia board, plywood, and the new metal roof and gutters.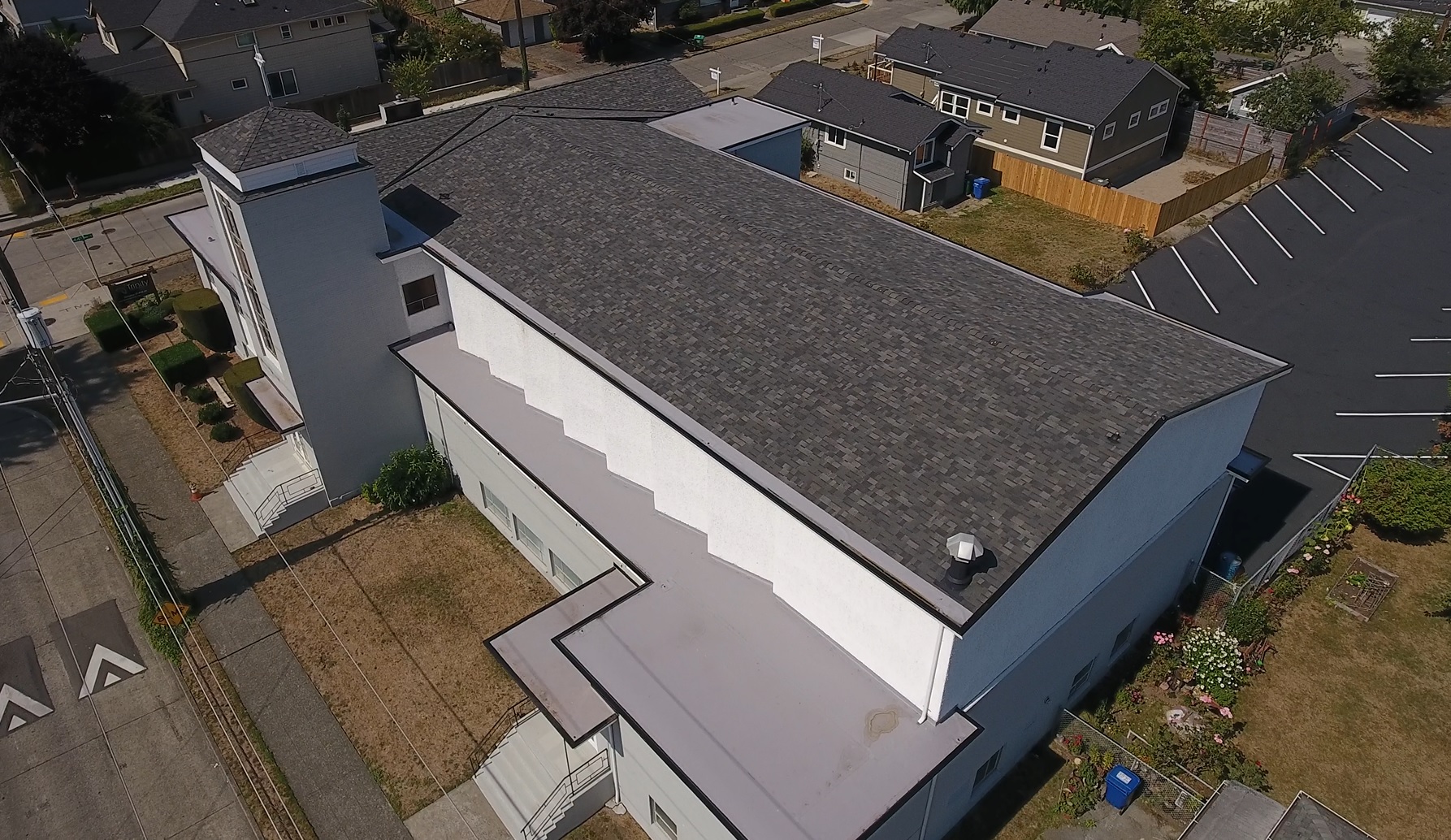 Commercial Roofing Seattle
Seattle Church Roof commercial roofing project that required a combination of composition low-slope shingles, and TPO membrane.