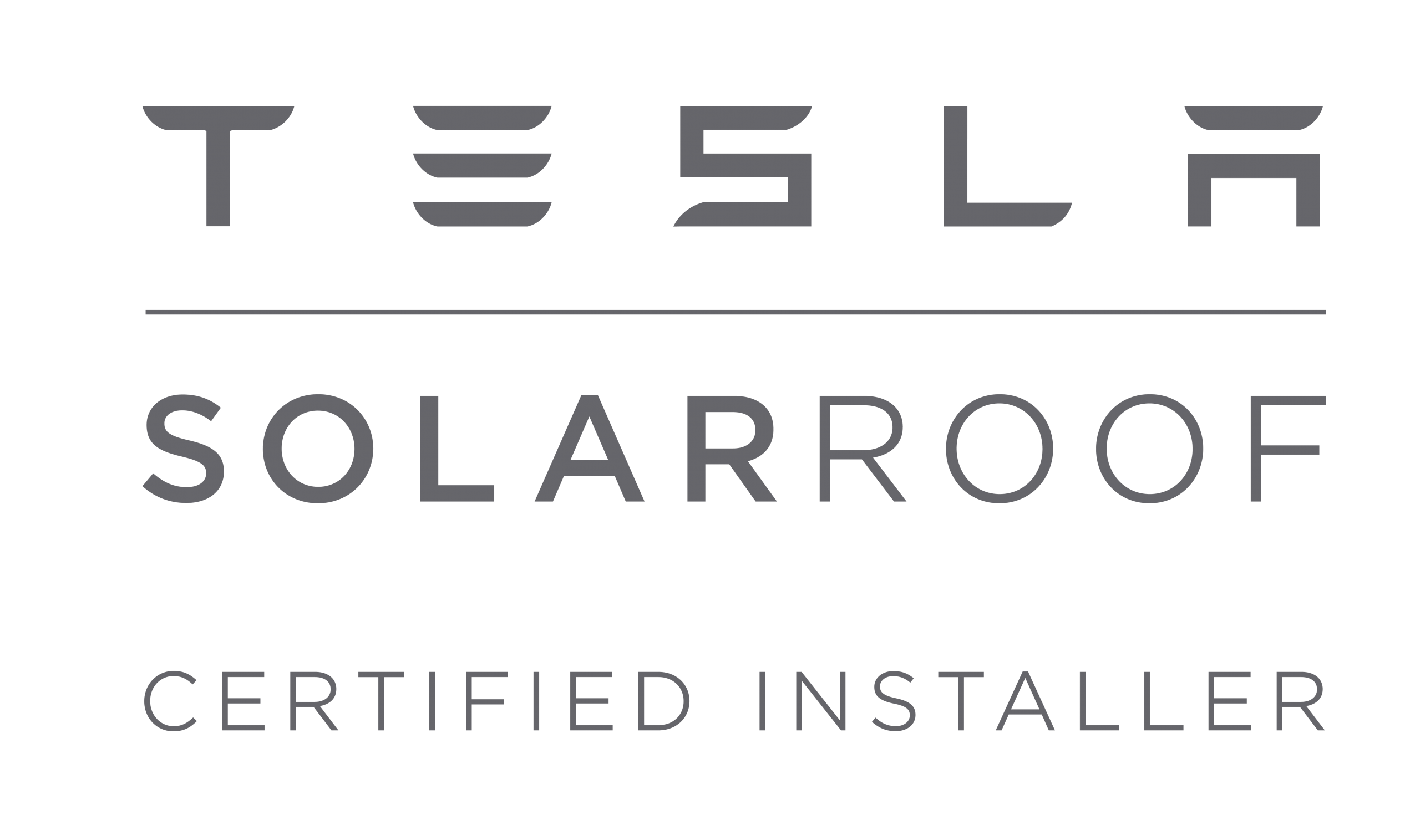 Three Tree Roofing is excited and proud to announce Tesla has audited roofing companies and contractors in Washington State and has chosen Three Tree Roofing (and our partner Artisan Electric) to be the first and only certified installers for Tesla Solar Roof.
With our focus on roofing, we have partnered with Artisan Electric, a full-service solar and electrical contractor based in Seattle, who is also certified as a Tesla Solar Roof installer to handle the electrical work related to installing Tesla Solar Roofs.
---
Tesla Solar Roof and Powerwall Benefits
Innovation and Durability: 3 times stronger
Tesla Solar Roofing is a unique and innovative roofing system. This solar power system is different from the solar panels that are becoming increasingly common on rooftops across the US. With Tesla Solar Roof, the panels are the roof, comprising tiles made of tempered glass which are three times stronger than standard roofing tiles. You get a durable, beautiful roof that generates clean electricity for your home.
Energy independence
When combined with the Tesla Powerwall rechargeable home battery system you get seamless backup designed to maximize your home's energy independence. You will enjoy power while others have no power during power outages.
Lower your monthly utility bill
Replace your current roof and pay less for electricity. The cost is comparable to installing a new composite shingle roof and your current electric bill and you can power all your needs with the energy you produce with your own self-generated solar power.
---
Tesla Solar Roof
The system is made up of three components: solar panels, inverter and solar gateway.
The solar panels capture sunlight striking your roof and convert it into electricity
A solar inverter connected to your solar panels converts this electricity from DC energy and into clean AC energy, which can power your appliances and electronics or, if you're producing more electricity than you need, it can feed energy back into the grid
The Tesla solar gateway captures all the information on your system and enables you to monitor your energy status with the Tesla app.
---
Tesla Powerwall
Tesla Powerwall is a rechargeable battery system that is designed to optimize your home's energy independence and offer you:
Seamless backup
A smaller carbon footprint for your home
Potential savings on your electricity bill
A Self-Powered Home
With Powerwall comes the ability to store the energy generated by your solar roof for later use. It also works with or without solar to provide key security and financial benefits. At night, Powerwall can provide your home with clean energy that you've generated during the day. Each Powerwall system includes at least one Powerwall unit and a Tesla Gateway.
The Tesla Gateway
The Tesla Gateway provides energy monitoring and management for the entire system. The Backup Gateway adapts to home's energy use over time, receiving over-the-air updates like the rest of Tesla's products. Each Gateway can manage up to ten Powerwalls.
Uninterrupted Power
When the grid goes down during the day, solar energy will continue to power your home and charge your Powerwall. The energy stored there can also power you home during the night if the grid goes down then.
In addition, with Storm Watch enabled, Powerwall can communicate with the National Weather Service and prioritize charging in anticipation of severe weather events.
---
Three Tree Completes the First Tesla Solar Roof in the State of Washington!
This landmark roof, built by Three Tree Roofing, a Tesla Solar Roof certified installer, was installed on a beautiful home with an equally drop dead gorgeous view over looking the great state of Washington. We are excited to have been part of such a fun project and what we think is the future of roofing.
See Project Details
---

This is the future available today. Call Three Tree Roofing at 206-312-7663 (ROOF) for more details and book your new Tesla Solar Roof today.