Exceptional CertainTeed Landmark TL Roof in Bellevue, Washington
Our expert Three Tree Roofing team was brought in to give this Bellevue home a much-needed roof replacement. The existing roof was an old Cedar Shake—a style quite popular in the Pacific Northwest. Unfortunately, its time was up. The Cedar Shake was showing signs of leaking and needed replacement. Rest assured, we didn't let it go to waste. The old Cedar Shake was recycled at Glacier Recycling, where it was ground up for reuse, much like bark.
The transformation from Cedar Shake to composite required us to install all new plywood. It's common for homes with a Cedar Shake roof not to have plywood, as it's typically unnecessary. For this conversion, we installed half-inch CDX plywood over the entire roof deck before we began constructing the new roof. The roof build included our perimeter edge metals and synthetic underlayment.
Finally, we installed the striking Moiré Black CertainTeed Landmark TL shingles. TL stands for triple laminate, a thicker shingle style that includes an extra layer, giving the roof additional dimension and a high degree of aesthetic appeal. We're thrilled with how this roof turned out, and most importantly, so is the customer.
If you have any questions about residential or commercial projects, feel free to contact us for your new roof or give us a call at 206-312-7663 (ROOF)! Thanks.
Bellevue Roofers share knowledge about roofing, roofing projects, and fun in Bellevue, Washington.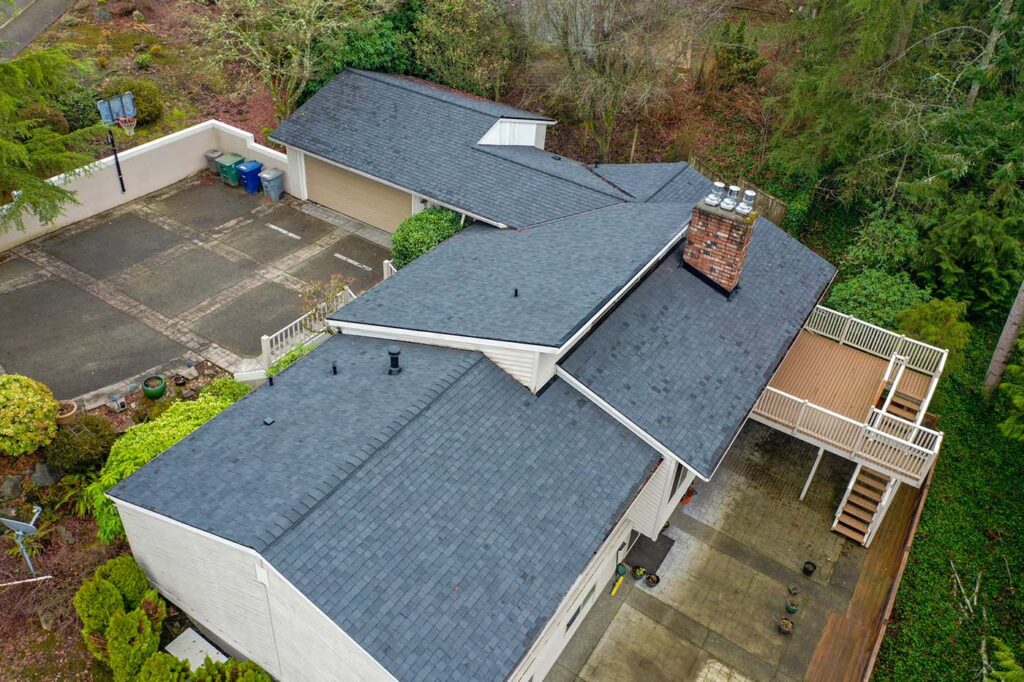 Trusted Performance and Quality Materials
As a Certified CertainTeed Roof Installer, Three Tree Roofing is proud to have the opportunity to offer the CertainTeed Integrity Roof System. With a 100 + year legacy of trusted performance. CertainTeed offers over 300 Roofing options backed by manufacturing excellence and quality materials. CertainTeed Composite Roof Shingles are Fire, Wind, Tear and Wind Driven Rain Resistance and are covered by an industry-best warranty including a lifetime limited transferable warranty against manufacturing defects on residential applications and more.
Roofing Project Details
Roofer: Three Tree Roofing Composite Roofer Expert Team
Roofing Project Location: Bellevue, Washington
Type of Roof: CertainTeed triple laminated composite shingle Roof
Type of Material: CertainTeed Landmark TL
Type of Roofing Project: Residential Composite Roofing
Roof Color: Moiré Black
Type of Roof Replacement: Old cedar shake roof tear off replaced with CertainTeed triple laminated composite roof
Length of Roofing Project: 4 to 5 days
Roof Warranty
Fire, Wind, Tear and Wind Driven Rain Resistance
Industry-best Lifetime, limited transferable warranty
50-year material and 25-year workmanship warranty
10-year SureStart™ warranty (100% replacement and labor costs due to manufacturing defects)
15-year StreakFighter® warranty against streaking and discoloration caused by airborne algae
15-year, 110 mph wind-resistance warranty
Family Owned & Operated Seattle Roofing Company
Three Tree Roofing is a family-owned and operated roofing company serving the greater Puget Sound Area. We are dedicated professional roofers who specialize in residential, multifamily, and commercial roofing. For over 15 years, we have been successfully solving both complex and straightforward roofing problems. Our dedication to customer satisfaction and providing top quality roofing services has given us the opportunity to build long-lasting relationships with our clients. As knowledgeable and trusted roofing contractors in the Seattle area, our clients rely on us to provide the highest quality roofing solutions for their roofing projects. Please contact us for your no-obligation estimate or give us a call at 206-312-7663 (ROOF)!
.
Certified Roofer
Get A Free Estimate
We are ready for your business! Please contact us using the methods below to get your no-obligation estimate.
Or call us at
206-312-7663

(ROOF)