Nu-Ray Metal Roofing shared some insights with us about the benefits of metal roofing.
Why Metal Roofing?
There are many benefits to choosing a metal roof. One benefit is metal roofing lasts up to 4 times longer than other types of roofing. A second benefit is there are energy cost savings of up to 40% over other types of roofing. Third, a home or business owner can save up to 35% on Hazard insurance. Lastly, a home or business owner can recoup up to 95% of cost of the roof on the resale of the home or building. Let's explore these benefits in detail.
We installed Nu Ray Metals NRM-2000 16" pencil ribbed dark bronze providing this home with a beautiful new metal roof in Auburn, Washington.
Life Cycle Savings
Longevity is one of the primary reasons why most people choose Nu-Ray Metal Roofing to protect and beautify their homes. A metal roof can last more than 50 years with very little maintenance.
---
Nu-Ray Metal 50+ Years (40 Year Warranty)
Install a Nu-Ray metal roof and you won't have to budget to do it again in 20 years as you would with asphalt roofing.
New Roof
Cost

Replacement
Roof Cost
---
20-Year ASPHALT
When comparing the cost of metal roofing versus asphalt roofing, costs will include labor to replace the roof twice in a lifetime. One should also include the cost of asphalt roof repairs. This compared to Nu-Ray Metal roofing which is typically a once-in-a-lifetime expense.
New Roof
Cost

Replacement
Roof Cost

Replacement
Roof Cost
With Nu-Ray Metal Roofing, you can enjoy peace of mind for decades to come.
---
Energy Savings
Depending on your geographical location and climate, energy savings can be another one of the benefits of metal roofing. Metal roofing can save up to 40% in summer cooling energy costs, as reported by the Cool Metal Roofing Coalition and the Oak Ridge National Laboratory. Even an uncoated metal roof will reflect much of the solar radiation usually absorbed by an asphalt roof—heat that is transferred into your home by asphalt and wood roofing materials.
Energy-absorbing Dark
Asphalt Roof
Reflective
Metal Roof
Re-Emissive
Metal Roof
Nu-Ray's D2 Kynar 500° ULTRA-Cool™ finishes not only reflect solar energy but also cool your home by re-emitting up to 90% of the heat that is absorbed. Highly emissive metal roofs can reduce interior temperatures by as much as 12° F. White metal roofing has the highest solar reflectance value of any roofing product and can reduce your annual energy bills by up to 40%.
---
Insurance Savings
Another benefits of metal roofing can be insurance related savings. Potentially lower your homeowner's insurance cost with strong, fire-resistant Nu-Ray metal roofing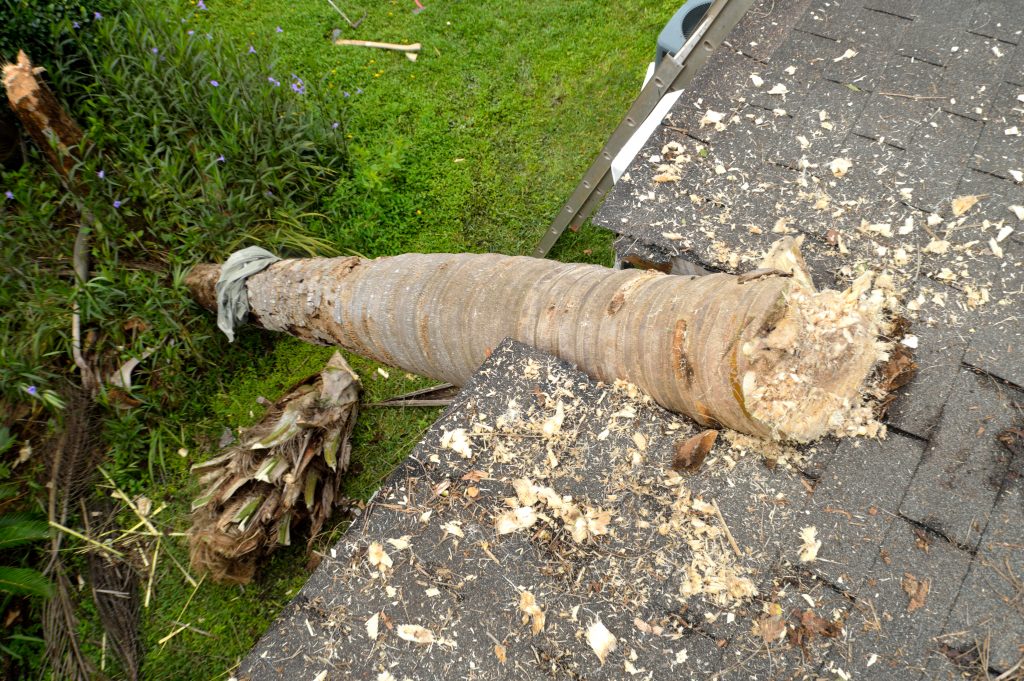 While metal roofs protect your home better than other materials, your home's security and Energy Savings appearance is not the only reason to select metal roofing.
Do you live in a region where you experience extreme weather, such as hail, heavy snow loads, or high winds? Our UL 580 Class 90 Rated and Listed, impact-resistant roofing and siding panels might qualify for a discount on your home insurance.

Panoramic view of a wildfire burning through the dry forests and threatening houses and buildings in the mountains
Potentially lower your homeowner's insurance costs with stong, fire-resistant Nu-Ray Metal Roofing.
In addition, fire-resistant metal roofing can also qualify your home for discounts in areas where wildfires and forest fires are common.
Your discounts could range up to 30% or more, depending on your insurance company and risk actors. A number of insurance companies made discounts available after a devastating 1991 wildfire in Oakland, California, where a house with a steel roof was the only surviving building.
Be sure to contact your insurance agent for specific information about discounts that might be available to you if you install a beautiful Nu-Ray metal roof!
---
Environmental Savings
Nu-Ray metal roofing, siding, and trims are environmentally responsible
Our residential metal roofing, siding, and trim panels are made with a minimum of 30% recycled materials and, after 40 to 50 or more years of reliable service, nearly 100% of the panel material can be recycled again! After all, steel is the number one recycled material on Earth.

Asphalt shingles contain petroleum products. Rarely recycled, they contribute more to landfill waste than any other building material. A 2007 study done for the U.S. Environmental Protection Agency (EPA) reported that 11 million tons of asphalt shingle waste are generated each year in the United States alone!
The primary environmental concern in recycling asphalt shingles is the presence of asbestos in shingles manufactured before 1980. In addition, asphalt naturally contains polycyclic aromatic hydrocarbons (PAHs), some of which are carcinogenic and put recycling workers at serious risk. Although leached and airborne PAHs typically fall below significant levels in testing, do you want to take even that small risk to your family's health?
---
Definitions: Things to consider in your decision process
When checking out options, you need to know a few basic definitions:
Exposed Fastener Types:
Exposed fasteners penetrate the panel to attach it to the roof, leaving the fastener exposed.
Concealed Fastener Types:
Concealed fasteners use attachment mechanisms that are not visible after installation; also hidden from the elements, they provide both a sleeker appearance and superior protection.
Gauge:
Gauge refers to the thickness of the panel. Note that the lower the gauge number, the greater the panel thickness will be.
---
Finishes
Finishes are another benefits of metal roofing from Nu-Ray Metal Roofing. We have various finishes suited for different benefits.
24 Gauge D2 Kynar 500 with OceanGuard
Thicker and stronger, our 24 gauge metal roof panels are engineered to perform in the harshest environments. In collaboration with PPG, Nu-Ray designed these panels to set the new standard in metal roofing. The quality is well worth the upgrade. The Az50 Zincalume/Galvalume base steel is coated in extra thick high-build primer and finished with PPG's D2 Kynar 500, so we can confidently offer a standard 50-year finish warranty—and a 15-year warranty, when activated, on finishes for projects located on coastal properties.*
*NOTE: Additional cost for OceanGuard Warranty for applications in harsh marine environments, and for upgrade from 20-Year to 30-Year Puget Sound Exclusion Zone Warranty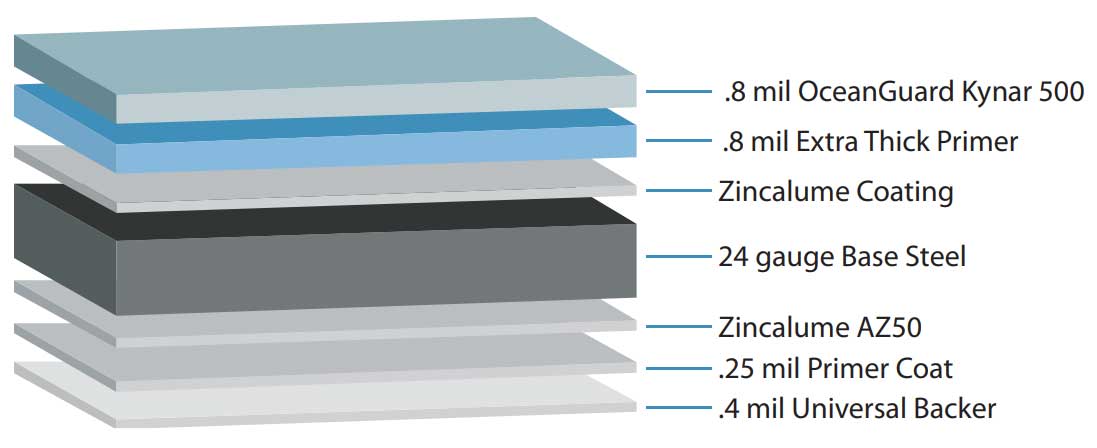 26 Gauge D2 Kynar 500
With 34+ years of experience, Nu-Ray has concluded that our 26 gauge panels utilizing a galvanized G-90 base finished in PPG's D2 Kynar 500 is the perfect roofing material for residential and light commercial applications. D2 Kynar incorporates reflective pigments—known as ULTRACool technology—provide superb solar reflectivity
---
Metal Roofing Myths
Myth: "Metal roofs are noisy when it rains or hails."
Fact: Rain on old barns and outbuildings can be noisy. However, a modern home has a solid roof deck typically made of wood. Combined with underlayment, the deck dampens noise, so your metal roof will be no more noisy than any other type of roof.
---
Myth: "You can't walk on a metal roof without damaging it."
Fact: Nu-Ray metal roofing is very strong and durable. You can safely walk on it without causing damage, which also makes it easy to perform periodic cleaning and maintenance.
---
Myth: "Metal roofs rust."
Fact: Nu-Ray metal roofing features multi-layered protective coatings and industry-leading color finishes, backed by exceptional warranties. Your Nu-Ray metal roof will resist rust and corrosion for decades and the colors won't fade for decades.
---
Myth: "Metal roofs attract lightning."
Fact: Lightning strikes the highest point in the area, regardless of the material where it strikes. Metal roofs have the same chance of being struck as any other type of roof material.
---
Myth: "Metal roofs get hot when it's sunny."
Fact: Nu-Ray metal roofing panels are available in a variety of 'cool' colors and finishes that reflect a lot of solar radiation. Metal also releases absorbed heat faster than asphalt shingles, thereby reducing the heat that passes into a home. In fact, independent studies conducted by the Lawrence Berkeley National Laboratory showed that reflective metal roofs dramatically. reduce the energy needed to cool buildings on hot days by as much as 40%. Your Nu-Ray metal roof will help keep you cool and save you money in energy costs!
---
Myth: "Metal roofs are heavy."
Fact: The truth is that metal roofing is typically 50% lighter than an asphalt roof and 75% lighter than concrete tile, fiber cement shakes, or slate roofs.
---
Colors! Colors! Colors!
Nu-Ray offers a full palette of colors to enhance your home. Is your home's style contemporary or traditional? In an urban, suburban, or rural setting? No matter, Nu-Ray has the perfect product in an extensive palette of Energy Savings colors from which to choose. See them below!