Quick Answer to "How Long Does Composite Roofing Last?":
Composite roofing has long expected lifetime of 30 to 50 years.
This Newcastle Composite Shingle Roof replaced an old cedar shake shingle roof. The roof has double coverage with the Three Tree Warranty and an additional CertainTeed Manufacturer Warranty since we are 5-Star CertainTeed Contractors.
---
Extended Answer to "How Long Does Composite Roofing Last?":
Composite Roofing - Long Lasting Roof
If composite roofing is installed properly, it can be expected to last 30 to 50 years. However, there are various factors that can shorten the life of a composite roof. Below is a list of the factors that can shorten the life of composite roofing.
---
Our team of professional roofers are fully certified, insured and bonded roof specialists who are trained in roofing installation and are manufacturer trained.
#1 - Workmanship
You can use the best materials, but if the roof is installed incorrectly, the lifetime of your composite roofing will be shortened. Some roof replacements require changes depending on the old roof being replaced and the new roof replacing the old roof. It is important your roofer is aware of any necessary changes. Roofs are not a 1 size fits all.
---
#2 - Materials Used
There are many composite roofing manufacturers. We work with two top composite roofing manufactures, CertainTeed and Malarkey Roofing Products.
CertainTeed
CertainTeed has been North America's leading brand of exterior and interior building products since 1904. They have helped shape our world - roofs being one example that can be found on almost any home! As an American company founded back then as General Roofing Manufacturing Company (1904), today's headquartered enterprise knows how to produce quality goods with sustainability at its core: insulation; siding/fences and more.
Malarkey Roofing Products
Malarkey Roofing Products has been a family-owned company since 1956. Located across the country from Oregon to California with an additional location for Oklahoma, they're committed in providing high quality asphalt or fiberglass shingle options that will work well on your next composite roofing project - no matter how big it might be!
---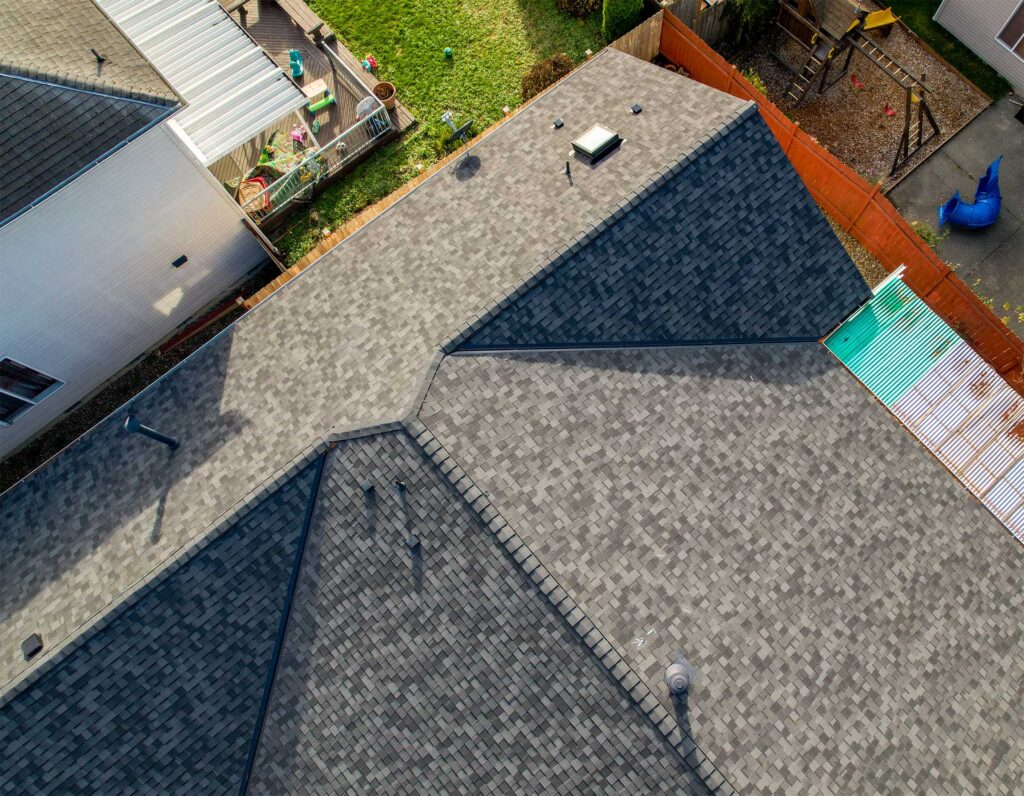 Vents, pipe boots, perimeter metal, skylights, all of the roof accessories are just as important as the shingles.
#3 - Roof Accessories
Another important factor that can shorten the lifetime of composite roofing is the quality of the roofing accessories used for the roof. These accessories include vents, pipe boots, perimeter metal, skylights, and more. You can use the best shingles and install them properly, but if low quality accessories are used, problems can arise shortening the lifetime of your roof.
"Your roof is only as strong as its weakest link."

CJ McConaghy
Co-Owner and Co-Founder, Three Tree Roofing
---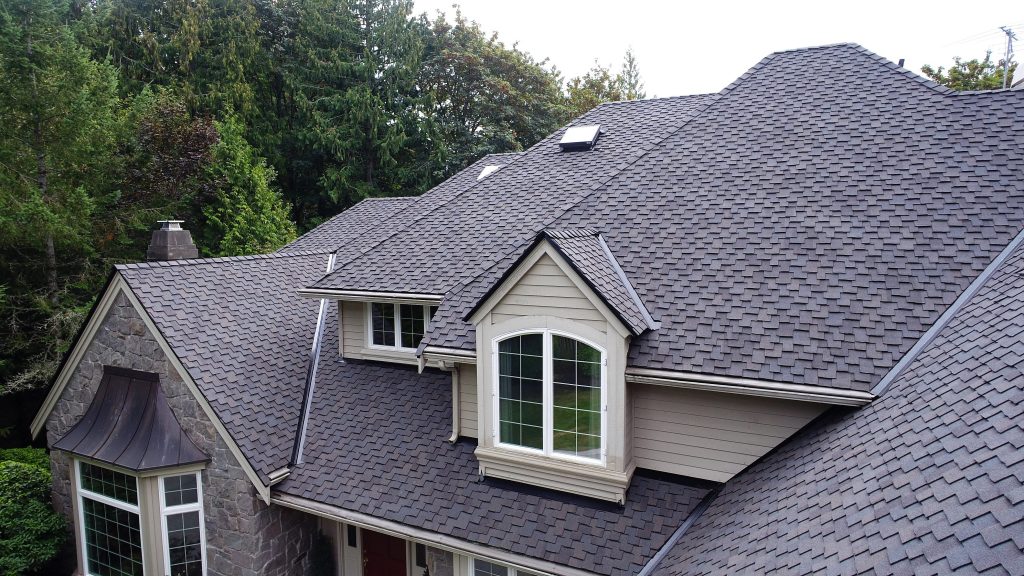 Proper ventilation is help regular the temperature and moisture of the roof.
#4 - Ventilation
The attic space needs to be properly ventilated to control the temperature of the roof space. This will keep your composite roof from getting too hot or too moist. Improper venting can shorten the life of your composite roof.
---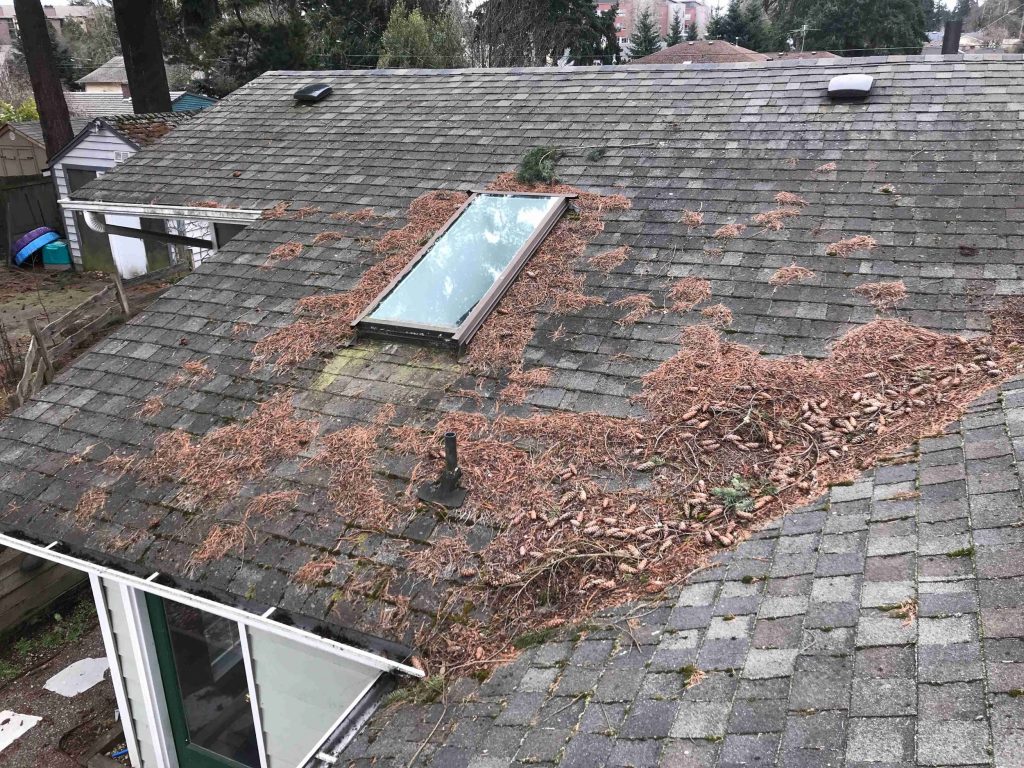 This is an example of a roof in need of some cleaning.
#5 - Proper Roof Maintenance
Keeping your roof clean is important to a full life for a composite roof. Debris, algae, moss, gutters, all need to be cleaned. Inspecting the roof for damage from animals, insects, or missing shingles is also very important. Read our comprehensive guide to composite roof maintenance.
---
Seattle and surrounding areas are notorious for rain. Consequently, roofing is extremely important in the Puget Sound.
#6 - Local Weather
The severity of the local weather play a factor in the lifetime of your roof. In Seattle, an ample amount of rain creates algae and moss growth. Wind can weaken the shingle seals which can cause missing shingles and or leaks. We install roofs of different types daily. The weather and the roof type will determine the proper installation methods.
---
Three Tree Roofing is Composite Roofing Manufacturer Certified
We have gone through extensive training with each manufacturer. This included comprehensive background checks and audits. Through these processes, we earned manufacturer certifications from our roofing material suppliers. In addition to the Three Tree Roofing Warranty, our customers receive a manufacturer backed warranty. This includes all of our workmanship. You are double covered by us and by the manufacturer!
Certified Roofer
---
We hope this article helps you better understand how long composite roofing lasts. Click here to see our next post "Is Composite Roofing Environmentally Friendly?" - Part 5 of our 8 Part series on "5 Different Types of Roofs: Composite Roofing".