Quick Answer to "What is metal roofing?":
Metal Roofing is a roof assembled using one type of a wide variety of metals including steel, aluminum, and copper.
This is a new Three Tree Roofing metal roof on the shores of Lake Washington in Washington state.
---
Extended Answer to "What is metal roofing?":
What is Metal Roofing? - The "Gold Standard" for Roofs
Metal roofing is any roof where metal is used as the roofing material to shield the house from outside elements. Metal roofs are elegant, strong, and durable. Metal Roofing is energy efficient and can last a lifetime.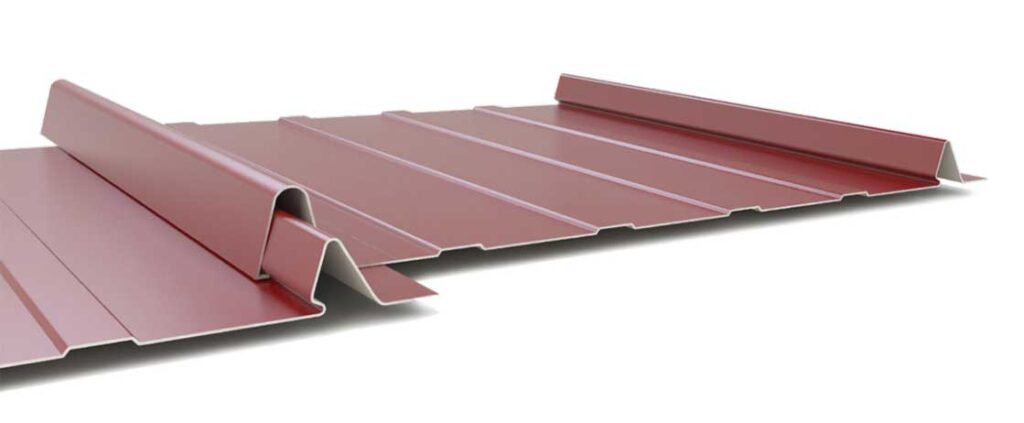 This is NRM-5000 and NRM-6000 metal roofing panels. Three Tree Roofing has a strong relationship with Nu-Ray Metals Roofing. We work closely with the manufacturer during production and installation. We purchase all of our metal from Nu-Ray and have the panels made at the factory for each project. Our metal crews are dedicated metal installers and work with metal every day.
Steel is the most common type of metal roofing. Standing seam metal is very strong and long lasting when made from good quality steel. Good quality steel has multiple layers of primer and paint to create a long lasting metal. A quality steel metal roof will come with a 40 or 50 year material warranty.
Aluminum is less common then steel because it is to soft. Aluminum is a great metal for gutters because it needs to be bent more to create the shape. Standing seam metal roofs have an open panel between the ribs, most commonly 16". This section will create ripples in the metal and start to oil can as it ages. The thicker the steel the less this will show.
Copper is really only used as an accent piece. Dormers and entry ways are the most common place to see copper. Copper is very expensive and requires a lot of maintenance to keep the material from getting a patina, unless that is the look that is wanted.
Within metal roofing, there are various grades of metal roofing panels available ranging in thickness, patterns, expected lifetime, and overall roof replacement cost. No matter the grade, metal roofs have certain benefits in common. Next, we review those benefits.
---
Benefits of Metal Roofing
Energy Efficient & Weather Resistant: Metal roofing can be manufactured to be energy efficient, have UV protection, resistant to wind, mold, and algae growth. Various finishes can be applied to further the energy efficient and weather resistance.
Long Expected Lifetime: Metal roofing has long expected lifetime of 40 to 50 years. This estimated lifetime is based on certain assumptions. One, your metal roof is made with high quality metal. Two, your roof was built with proper installation techniques and workmanship. And last, you perform regular roof maintenance.
Different Colors & Styles:
Metal roofing panels are available in many different colors, shapes, and thickness. In addition, various finishes can be applied. This provides a large variety of looks for metal roofs. See our Roofing Portfolio with
metal roofing work samples
.

Recycled & Recyclable: We purchase metal roofing materials that are manufactured with 30% recycled material and are 100% recyclable when they come off your roof.
Strong Manufacturer Warranty: Because of the strength and durability of metal roofing, the metal roofing manufacturers offer extremely comprehensive warranties that are transferable.
The Gold Standard: Compared to other types of roofs, metal roofing is not the lowest cost roofing solution, but it is considered one of the most high quality and long lasting.
---
Three Tree Roofing Staff are Metal Roofing Experts
Three Tree Roofing includes a 25 year workmanship warranty on all metal roof installs. We have dedicated metal roofing crews that install metal roofs and no other types of roofing. This allows our metal roofing crews to focus on metal roofing and be the best metal roofers in Washington state.
We carry these great roofing products
---
We hope this series of article helps you better understand the ins and outs of metal roofing. Click here to see our next post "What are Different Types of Metal Roofing?" - Part 3 of our 9 Part series on "5 Different Types of Roofs: Metal Roofing".